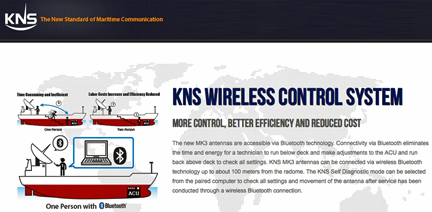 [SatNews] KNS, Inc. has launched their proprietary web-based software that will allow ships to remotely control and monitor their antennas, regardless of how far the operator is from the Antenna Control Unit (ACU).

With engineers and captains requiring better management to the status of their antennas, KNS believes that their web interface will enable them to provide improved decision making, and ultimately, increase safety and service. This new software is, according to the company, easy to use and provides a maximum of 16 different IDs for a single antenna. Each ID requires a separate password, entered on a PC, iOS, Android or mobile phone, to ensure security and controlled access.

Additional features include the ability to have all antenna monitoring information visible on one page. Incorporated into this page would be errors, sensor voltage and a graph showing the satellite carrier spectrum analyzer. There is also a dedicated function for saving error data codes, which can be logged by time and by error code. This information can be stored using the memory bank and can be searched through at a later stage via a specific date or time span.
The software is available immediately via KNS's global distribution channel.
The KNS infosite is available at http://www.kns-kr.com/