[SatNews] The Rural Health Education Foundation has partnered with Optus to expand the reach of its...
...Rural Health digital TV channel, delivering more content to more locations across Australia via satellite following a new five year contract. Broadcast via the Optus Aurora Digital satellite platform, the Foundation's Rural Health Channel delivers vital health news, education and training for families and healthcare professionals in regional, rural and remote areas of Australia. Under the new agreement, the channel is now received by more than 600 Rural Health sites, as well as free-to-air viewers throughout every region of Australia. Broadcast coverage has also been extended with up to 24 hours of SD health programming each week. Previously, Foundation programs were only available to health professionals in a limited number of clinics for two hours per fortnight. The Foundation's expanded partnership with Optus represents a major milestone in helping to bridge the current gap in health literacy and boost health awareness amongst rural and remote communities.
The Rural Health Channel is now accessible by the 75,000 households around Australia that are eligible for Viewer Access Satellite Television (VAST). Broadcasters use the Optus Aurora Digital satellite platform to deliver free-to-air (FTA) digital TV satellite services in remote areas as part of the Federal Government's Digital Switchover program. Rural Health is the first free-to-air narrowcaster in Australia to provide content to VAST viewers and will initially broadcast up to 24 hours per week: from 1.30 to 3.30pm and 7.30 to 9.30pm on weekdays, and 4.30 to 6pm on Sundays.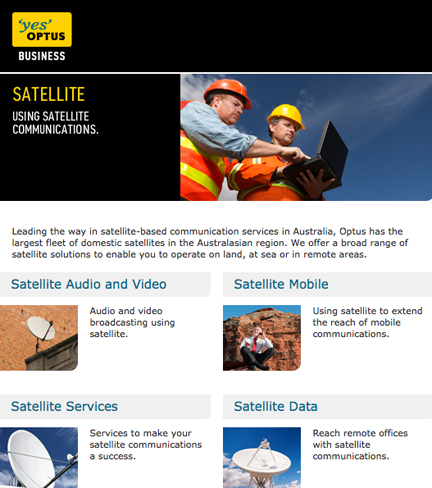 The Optus Aurora Digital satellite platform uses the latest MPEG-4 and DVB-S2 technologies, providing a more efficient use of bandwidth and a better viewer experience for end-users. It is also used by leading broadcasters such as Australian Broadcasting Corporation (ABC), Special Broadcasting Service (SBS), Southern Cross, WIN, GWN7 and Imparja. Optus has five satellites currently in orbit, with a new satellite, Optus 10, scheduled for launch in 2013.