New product information and broadcasting news of interest to companies and professionals involved in the satellite broadcasting and related industries...
=-=-=-=-=-=-=-=-=-=-=-=-=-=-=-=-=
[SatNews] Encompass Digital Media has appointed Chris Walters as its Chief Executive Officer.
Walters will be responsible for day-to-day operations of Encompass on a worldwide basis. William Tillson will assume the role of Executive Chairman. Tillson will continue to provide executive leadership focused on global customer initiatives, technology partnerships and next-generation media delivery strategies.
"After completing our four acquisitions, we have focused on recruiting world-class senior executives to provide the executive depth required to operate and grow our worldwide business—Chris completes this process," Tillson commented. "He brings deep industry operating experience to Encompass along with demonstrated success executing OTT strategies which is the next generation of growth for our customers."
Prior to joining Encompass, Walters served as the Chief Operating Officer of The Weather Company, where he collaborated with the leadership team to successfully position the company for rapid growth and drove new technology developments that enabled The Weather Company's expansion across all platforms. Before joining The Weather Company, Walters served in leadership roles at Bloomberg where his last position was leaving as Chief Operating Officer of the Bloomberg Industry Verticals Group. In this position, Walters drove significant expansion of subscription services in multiple industry verticals via organic growth and acquisitions. Prior to Bloomberg, Walters was a partner at McKinsey & Company where he led client engagements defining video distribution strategies and growth opportunities including next-generation business models for traditional media, digital media, technology and information services companies.
Walters holds an MBA from The University of Chicago - Booth School of Management with a focus on Finance and Strategic Management and a BS in Business Administration from the University of Vermont.
Encompass Digital Media's infosite may be accessed at http://www.encompass.tv/
=-=-=-=-=-=-=-=-=-=-=-=-=-=-=-=-=

[SatNews] Spacecom (Tel Aviv Stock Exchange: SCC), the operator of the AMOS satellite fleet, have announced that the AMOS-5 satellite has won a multi-year contract to transmit Nigeria's newest payTV platform from ACTV (African Cable TV). From its 17 degrees East prime orbital position, the satellite will send ACTV's signals to viewers throughout Nigeria over its Ku-1 beam.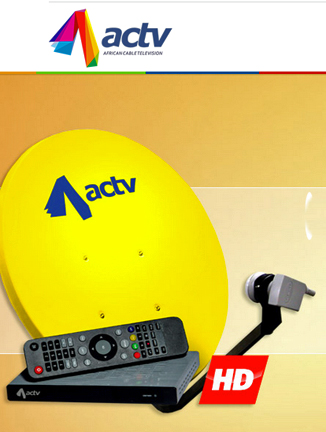 ACTV is a new digital payTV platform offering more than 60 channels to Nigerian viewers. Alongside premium channels that include SKY News, Nickelodeon, Fox News, Nat Geo Gold (National Geographic Gold), Fox Entertainment, Fox Movies, Fox Sports, MU TV (Manchester United TV), International World Drama and more, the new platform also offers an array of its own local productions, music, children and youth, news, sports, lifestyle, religious, movie and entertainment channels.
ACTV significantly strengthens the 16 to 17 degrees East position, already the leading DTH and Free-To-Air (FTA) video neighborhood in West Africa. This will improve the quality and effectiveness of broadcasting services to the region and deliver viewers a larger channel line-up from one virtual orbital position. AMOS-5 represents a total solution for broadcast and data clients in Africa with excellent coverage, a strong footprint, and reliable and powerful signals throughout the continent. AMOS-5's three Ku-band beams and pan-African C-band beam add value to broadcasters, data, telecommunication and Internet providers as well as governments and multi-national corporations.
According to Godfrey Okreh, CEO of ACTV, "Our viewers in Nigeria deserve choice,—our broadcast platform is bringing information and knowledge that enables them to enjoy life to its fullest. As a cost-effective platform backed by an organization based on delivering the highest quality service, ACTV is going to change Nigeria for the better."
"ACTV is primed to become a force of change in Nigeria's communications sector. AMOS-5 at 17 degrees East reaches all of Nigeria with its strong signal," said Eitan Mesika, Spacecom's VP Sales West Africa. "Since the satellite's launch in 2013, we have enjoyed working with Nigerian clients and having ACTV is an example of how we are stepping up our strategy and moving forward in this fast moving market."
For additional information regarding Spacecom, please visit http://www.amos-spacecom.com/
Further detail regarding ACTV may be obtained at http://actv.tv/
=-=-=-=-=-=-=-=-=-=-=-=-=-=-=-=-=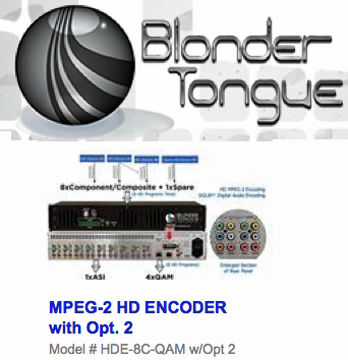 [SatNews] Blonder Tongue Laboratories, Inc. (NYSE MKT:BDR) has announced that the company's HDE-8C-QAM w/Opt 2 encoder is now approved for use in high-definition (HD) deployments over coax infrastructure by a major U.S. satellite digital television provider.
The reliability, superior video quality, and feature set provided by the HDE-8C-QAM w/Opt 2 encoder (#6370-2), will enable operators to cost-effectively deliver HD video content in certain institutional markets. Using the HDE-8C-QAM w/Opt 2 encoder, operators can accept programs from up to eight component or composite inputs from satellite receivers. After accepting video content, the encoder digitizes, MPEG-2 encodes, multiplexes, and modulates the eight input programs plus a spare into four adjacent watermarked QAM channels. The high-performance encoder also features a Web-based user interface plus a front-panel test point, thereby decreasing the learning curve for system operators and further reducing operational expenses. Additionally, the feature-rich encoder includes closed captioning, user-defined PSIP configurations, and is compatible with ITU Annex A and B digital QAM formats. An included emergency alert system interface allows the encoder to comply with EAS requirements.
"When it comes to distributing HD in institutional environments, superior video quality, reliable performance, and operational efficiency are essential," said Jeff Smith, vice president of sales at Blonder Tongue. "The unit's high performance and advanced features (like satellite receiver control and sparing, Dolby® digital audio and emergency alert) are key reasons why we are seeing such strong market interest in this unit. The new lower price reduces the operators' capital and operating expenses, making this product a very compelling solution."
More information on Blonder Tongue and its products is available at http://www.blondertongue.com/.
=-=-=-=-=-=-=-=-=-=-=-=-=-=-=-=-=

[SatNews] ETL System has provided United Arab Emirates telecom operator du with three RF matrices as it continues to further build its IPTV network.
Two 32 x 128 L-band Vortex Matrix systems have been installed and commissioned, with one primary unit going into operation in Dubai and a second unit installed for geo redundancy purposes in Abu Dhabi. A third 64 x 128 L-band Vulcan Matrix has also been installed and commissioned at the du Samacom teleport.
The number of subscribers signed up to du's IPTV service is growing with all those ordering new home service packages getting access to the du TV+ service. This includes more than 400 local and international channels, many of which are received by du via satellite link before being re-transmitted over its cable and fibre network to customers. Support for this contract also was derived from ETL Systems' reseller partner in Dubai, Mena Nets, which is a global provider of managed network communication solutions. News of this deal follows the opening of ETL Systems' Middle East office earlier this year to increase the company's global presence and meet growing demand in the MENA region.
The Vortex and Vulcan Matrices are part of ETL's "V series" matrix family. They offer a reliable solution for RF routing systems, are housed in the most compact rack enclosures possible and include extensive on-board monitoring and reporting of RF card amplifier status, CPU and PSU status, as well as HMI communications.
"We are building extra capacity in our IPTV network as we extend our subscriber base further and also want to ensure full resilience in the network," said Ali Dernaika, Senior Manager IPTV Services at du.
"ETL Systems has a vast range of products offering scalable solutions that are adaptable in order to build the right amount of capacity into the network without the necessity to invest in new technology before it is needed. Almost all the equipment is hot swap and with real-time monitoring on performance across all of the matrices, we knew this was the perfect fit for du's continued growth," said Mazen Nassar, CEO of Mena Nets.
For further information about ETL Systems, please visit http://www.etlsystems.com.
=-=-=-=-=-=-=-=-=-=-=-=-=-=-=-=-=

[SatNews] The biggest companies in the digital landscape will be on hand to help companies decode the OTT riddle.
From business models and case studies, to digital advertising and TV Everywhere, international thought leaders bring their expertise to the CASBAA OTT Summit 2015. The participating firms include...
Accedo
Brightcove
Ericsson
ESPN
Haldanes
Iflix.com
Maker Studios
Miner Labs
Olswang Asia
Ooyala
Singtel
SNL Kagan
Universal Networks International
Xaxis
and many others!
Reserve your seats now with an Early Bird discount rate that closes on January 27th. Download the PDF registration form via this direct link.
=-=-=-=-=-=-=-=-=-=-=-=-=-=-=-=-=