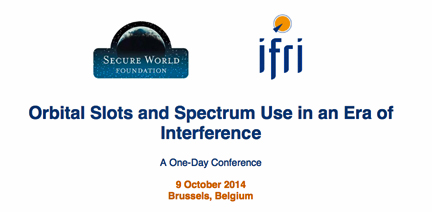 [SatNews] On Thursday, October 9, 2014, the Secure World Foundation (SWF) and Institut français des relations internationals (IFRI) will co-host an event on radio frequency interference (RFI) in Brussels, Belgium.
This one-day conference will examine how RFI affects a variety of issues, including freedom of information (deliberate interference), terrestrial telecommunication services (notably C-band), and governance of the geostationary arc (unintentional interference). This event is a follow-up from a similar event that Ifri hosted in April 2013.
Entitled "Orbital Slots and Spectrum Use in an Era of Interference," the event will be held at the Hotel EU Brussels from 9:00 a.m. until 5:15 p.m. For a ".pdf" of the draft agenda, please select this direct link. To RSVP, please select this link.