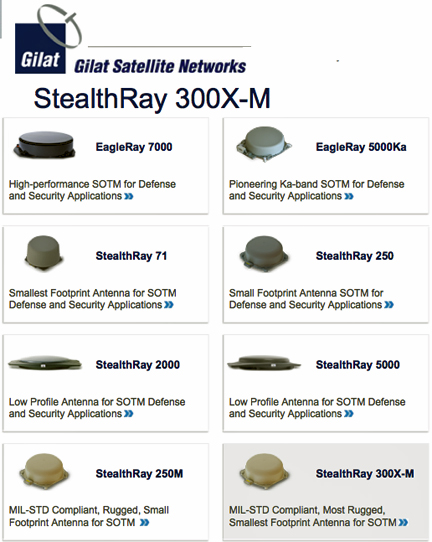 [SatNews] Gilat Satellite Networks Ltd. (Nasdaq: GILT) has now made available their new StealthRay 300X-M (SR 300X-M) ultra-compact, low-profile, MIL-STD, X-band broadband antenna for real-time broadband satellite Communications-On-The-Move (COTM) and Communications-On-The-Pause (COTP)—StealthRay 300X-M is a member of the StealthRay 300 (SR-300) family of products, which include also low-profiles antennas for Ku- and Ka-band.
SR 300X-M is designed to operate in rough environments and interoperate with different X-band satellite constellations, including the high-throughput Wideband Global Satcom constellation (WGS). It features an efficient SWAP design which is especially suited for compact platforms and tight rooftop space. Installation is quick and easy, requiring practically no technical expertise. Its innovative low-profile design provides better safety, smaller radar profile and improved maneuverability for military forces. The new antenna also includes an enhanced and more accurate satellite tracking mechanism, providing short initial acquisition and instantaneous re-acquisition time.
"The SR300X-M was developed to accommodate our clients' growing need for an ultra-small, high performance X-band SOTM broadband antenna," said Moshe (Chico) Tamir, Gilat's Executive Vice President and President of Defense & HLS Division. "It is the latest addition to the StealthRay 300 family and our growing portfolio of low-profile SOTM solutions, which are some of the most comprehensive in the industry."The SR300X-M antenna seamlessly integrates with Gilat's MLT-1000 modem system and other components to form a compact and fully integrated terminal.
For more information, please visit http://www.gilat.com/StealthRay-300X-M or booth, #5030, at Satellite 2014.