[SatNews] GATR Technologies has announced that its 2.4- and 1.8-meter unique inflatable satellite communication terminals are...
...certified to operate at X-band on the Wideband Global SATCOM (WGS) network. This certification affirms that GATR's terminals adhere to the stringent performance and operational control requirements needed to operate on the WGS network. GATR's extreme portability, in combination with this certification, enables the warfighter to easily transport and deploy the system, as well as transmit and receive mission critical data, voice, and video faster and more securely. Testing was completed by the U.S. Army Space and Missile Defense Command/Army Forces Strategic Command (SMDC/ARSTRAT) in support of the U.S. Marine Corp System Command.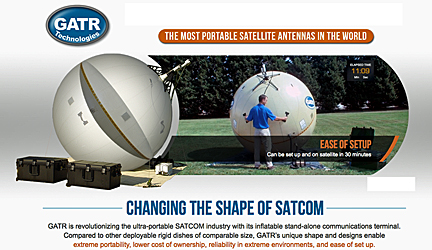 The WGS constellation of satellites increases the communications capability of United States, Canadian, Australian, and other allied nation militaries by providing additional bandwidth capabilities for tactical command, control, communications, and computers; intelligence, surveillance, and reconnaissance (C4ISR); battle management; and combat support information. WGS offers the ability to exchange information faster using higher data rates, and more efficiently, versus commercial satellite solutions.
"GATR's WGS certification fulfills mission requirements for a high-gain, low-weight satellite terminal that will directly benefit the warfighter," states Dr. Larry Lowe, VP of Engineering at GATR Technologies. Lowe continues, "The portability and performance advantages of our technology are already realized by comms groups within the military and homeland security; this certification enables all DoD users to exploit these advantages." GATR's 1.8- and 2.4-meter X-band solutions are also certified to operate on commercial X-band networks such as X-TAR and Paradigm.