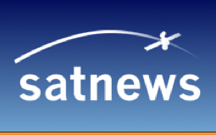 [SatNews] SatNews Publishers is closing up shop on their visit to CommunicAsia2014.
Silvano Payne, Publisher, and Jill Durfee, Sales Director, attended this huge APAC event, which was held at the beautiful Marina Bay Sands hotel in Singapore. Marina Bay Sands is an integrated resort fronting Marina Bay and was developed by Las Vegas Sands—this is the world's most expensive building, built at a cost of US$ 5.7 billion, which includes the cost of the land which is considered the prime of the prime when it comes to real estate in Singapore. Then, imagine yourself swimming in this 57th story infinity pool!
Among the many booth visits, the SatNews Publishers duo had the opportunity to meet and greet...The general consensus is that CommunicAsia2014 was a most worthwhile and business friendly trade event that is certainly worthy of becoming an annual calendar "must do" event.
All photos: (c) SatNews Publishers