DEV Systemtechnik, a Quintech Company, will showcase its completely advanced product line for HFC Head-ends at ANGACOM 2016 in Cologne, Germany—they will be present at Stand Number 0.28 in Hall 10.1.
MODULO is the name of the new product line consisting of universal, space saving active and passive components for RF transmission over coax and fiber for upstream and downstream applications. DEV draws from a large pool of knowledge and 14 years of experience as a primary supplier of components for installing and upgrading cable networks. MODULO is a new standard of quality and performance for these applications and fully supports the DOCSIS 3.1 transmission standard and is more universal, smart and easy than other existing market products and solutions.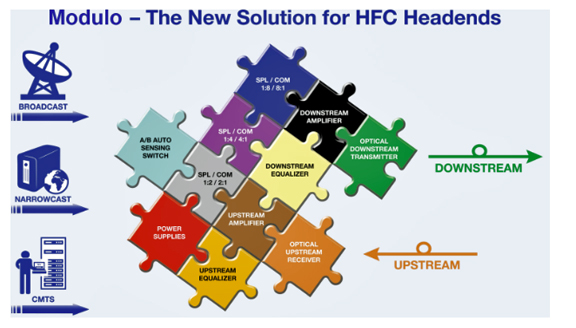 Various industrial grade RF transmission modules are available for application in HFC head-ends: Splitters/ Combiners, Equalizers, Amplifiers, Redundancy Switches, Optical Receivers and Transmitters, as well as other best in class RF modules that transmit RF signals either electronically or over fiber. The benefits of MODULO over conventional solutions include:
Universal: ONE SINGLE module will be either a Splitter with monitoring port or a Combiner with monitoring port bringing a 50 percent savings in storage costs.
Smart: The available functionalities have been engineered to meet various customer needs and network configuration challenges. All modules are prepared for integration into an M & C System and come with monitoring ports for real-time observation of RF signals. Amplifiers offer additional electronic gain and slope.
Easy: All modules have been designed with functionality in mind, regardless of customer network variations and requirements, all in a single chassis.

"It is essential that existing access networks can be further optimized to support higher data rates associated with new and growing bandwidth demands, while not disrupting the existing plant infrastructure or causing complete and expensive overbuilds. Existing infrastructure must be converted as quickly as possible to enable an economic expansion of broadband services. This requires planning, high quality components and a reduction of complexity, to achieve this goal quickly and economically," said Oliver Herzberger, Director of Marketing and Product Management, DEV Systemtechnik.