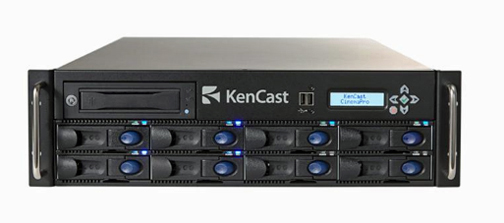 [SatNews] KenCast will exhibit and demonstrate its digital cinema appliance, the CinemaPro 3RU at CineAsia in Hong Kong, the principal Pan-Asian convention dedicated to cinema exhibition and distribution communities, December 10th through the 12th.
KenCast has provided secure and ultra-reliable delivery of multimedia content, as well as content delivery products and services for two decades, specializing in ultra-reliable content delivery over wireless and wired networks. Their clients include Hollywood movie studios, military and government agencies, and major news networks.

KenCast's exhibit will focus on their EdgeSpan CinemaPro appliance and the EdgeSpan Enterprise server. The CinemaPro 3RU is the preferred DCDC appliance, currently used by top-grossing movie houses in North America, South America, Europe, and Asia, choosing to upgrade to state-of-the-art content distribution capability for optimal delivery of first-run movies from the Hollywood Studios to theaters worldwide.
The CinemaPro is compatible with all digital theater management systems, including legacy systems, and enables delivery by satellite or fiber optics of very large movie files and streaming of live events. It also offers simultaneous recording of live events for "time-shifting" with its DVR features, allowing staggered delivery to multiple screens in a cineplex, as well as recording of the event for later play out.
Further details are available at http://www.kencast.com/