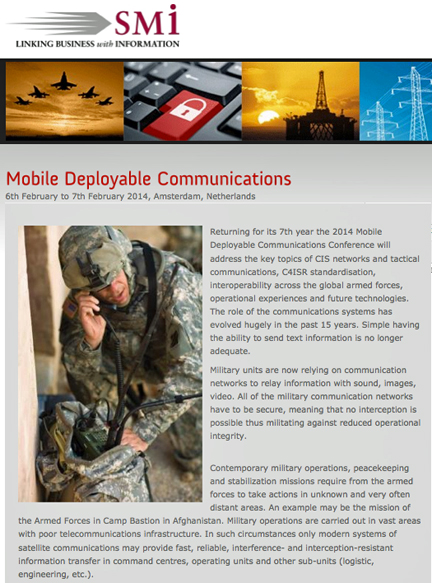 [SatNews] The upcoming Mobile Deployable Communications 2014 event will feature leading communications experts, government officials, key military representatives and industry leaders from across Europe and the US and will be held from February 6th through February 7th at the Mövenpick City Centre Hotel, Amsterdam.
SMi is also announcing that Cisco has joined the speaker line-up on day 2 of the conference. Don't miss the chance to hear their presentation on: Transforming Military Mobile Deployed Communications. The presentation will be led by David Lawford Mee, Business Development Manager, Defence - Europe, Middle East, Africa & Russia and Edwin Tromp, Vertical Solutions Architect both from Cisco Systems. Further presentation details will be released shortly.
The 2014 speaker faculty also includes:
Michael McCarthy, Director of Operations and Program Manager, US Army
Senior representative, BOWMAN and tactical Communication & Information Systems, DE&S
Horst Treiblmaier, Chief of Communication, Ministry of Defence, Austria
Robin Edgar Hansen, Team Leader SW design, RUAG
Lawrence Poynter, Product Director, iORA Software
In addition - don't miss the interactive half-day conference workshop on: Mobility & Deployability for Emergency & Post-Disaster Recovery Communications, hosted by Martin Jarrold, Chief, International Programme Development at Global VSAT Forum. Click here for more details.