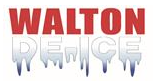 Many new products will be debuting at the Satellite2018 show, and this company has an interesting item that makes one think, "why didn't someone think of this sooner?" Here's Walton De-Ice's latest product that resembles a pop-up camping tent, but this certainly is not like any other tent because this is ...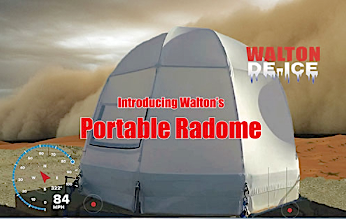 Walton De-Ice's first-of-a-kind, the Walton Portable Radome, is a product for satellite Earth station antennas and will be seen in Booth 425 at Satellite 2018. Walton, designer and manufacturer of satellite Earth station antenna (ESA) weather protection solutions has created the Walton Portable Radome which protects antennas from weather effects such as rain, sleet, snow, ice, winds, sandstorms, hail, and can be rapidly deployed in just hours, unlike conventional radomes in its size class, and at cost-savings.
The Walton Portable Radome is offering a uniquely deployable weather protection solution for C-Band, X-Band, Ku-Band, and Ka-Band applications such as military vehicular mount and coms-on-the-pause (COTM) terminals, VSAT, transportable uplinks for first-responder and disaster recovery networks. According to David Walton, Vice President of Walton De-Ice and inventor of the product, he said they are excited to introduce their Portable Radome at Satellite 2018. Whether a network mission requires keeping a SATCOMS terminal on air in a 70 mile-per-hour wind storm, sandstorm, blizzard, hail, or torrential rains, the new Walton Portable Radome helps make satellite networks more survivable and deployable into extreme or harsh environments for military or civilian networks.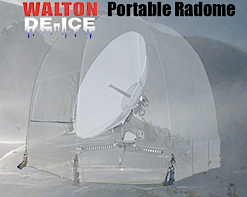 David continued that the Walton Portable Radome can also be used for fixed site ground networks, including LEO/MEO constellation ground infrastructures, where their solution can deliver gateway site cost-savings and other advantages compared to traditional solutions.
The Portable Radome employs the same field-proven, virtually RF transparent, and hydrophobic Architectural Fabric antenna cover materials used in other Walton products that are deployed in military and civilian C-, Ku-, and Ka-Band satellite antenna de-icing weather protection systems around the globe. The initial release is designed for satellite Earth station antenna reflector structures under four-meters in size.
At Satellite 2018, Booth 425, Walton De-Ice will also showcase its patented Ice Quake and Snow Shield antenna cover solutions for antennas from 0.6 to 6.3 meters. Ice Quake can enable up to 100-fold energy savings compared with conventional anti-ice solutions.