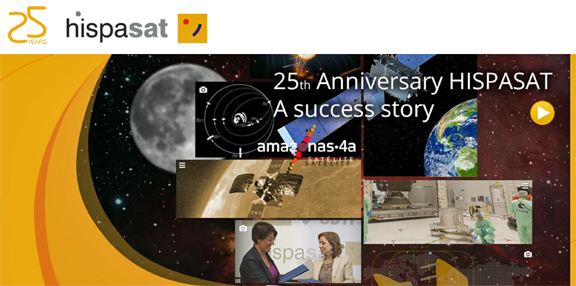 [SatNews] Spanish satellite telecommunications operator, HISPASAT, has decided to extend the deadline for submitting work for entry into the company's prize for Best Innovation Project in the satellite communication field, which will mark the firm's 25th anniversary—the new deadline is set for the February 28, 2015.
This decision corresponds to a series of requests received from companies and research groups requesting that the deadline for submitting work be extended. In order to prevent unfair advantage, and to enable all entrants to benefit from the extended call, HISPASAT will invite all those who have already submitted their work prior to the publication of these amended conditions, ratified before a notary, to make any changes or improvements they deem appropriate to their entries.
The prize is open to all submissions from academic and industrial backgrounds that offer a solid, innovative, satellite telecommunications project, which may be applied to, and constitutes a useful improvement in, any satellite communications related field. The projects, for example, could concern carrying capacity, flight systems or technologies dealing with on ground sector, and so on.
The winning entrant will be awarded 12,000 euros, while finalist will receive 5,000 euros. Both will also be awarded with an accrediting certificate.
The HISPASAT infosite may be accessed at http://www.hispasat.com/