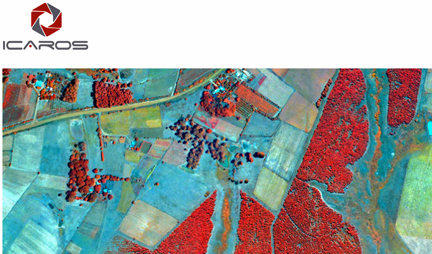 [SatNews] Debuting at InterGEO 2014 in Germany will be the Icaros Digital Mapper (IDM) 1000, an advanced aerial remote sensing and 3D visualization solution.
The versatile Icaros Digital Mapper (IDM) 1000 combines a high-accuracy photogrammetric nadir camera with four high-quality oblique sensors in a modular airborne imaging package.
The modular IDM 1000 package is built around the IDM 200 nadir camera with a new mount supporting up to four 45-degree oblique sensors. The standard IDM 1000 configuration includes an 80-megapixel (MP) nadir natural-color (RGB) sensor, four 36-MP oblique RGB sensors, modular mount, embedded GPS/INS, flight planning and management system, and the Icaros Photogrammetric Suite (IPS) of software tools.
"Icaros developed the IDM 1000 for mapping organizations that want to maximize their investment in an aerial sensor system," said Icaros CEO Tom Bosanko. "The IDM 1000 can be configured to meet the geospatial application needs of traditional photogrammetric imaging as well as 3D oblique mapping, all in one flexible system. Clients have the option of purchasing the IDM 1000 as a complete solution. Or, they can buy and operate the IDM 200 as a stand-alone unit and add the oblique cameras and mount later as their mapping offerings expand to include 3D modeling and oblique visualization."
The IDM camera family offers eight sensor design alternatives, including near infrared and thermal infrared imaging. Each IDM camera delivers sub-pixel accuracy, high-dynamic range and true-color pixel collection. Depending on altitude, the pixel GSD ranges from 1 cm to 100 cm in nadir or oblique operations. The IDM 1000 can be flown on rotor or fixed wing aircraft and modified for flight on some UAVs.
Aerial oblique imagery is used extensively in tax appraisal and assessment, and its applications are expanding rapidly into facility management, infrastructure monitoring, building energy audits, public safety and other GIS markets that benefit from creation of accurate 3D models and elevation data sets. The IDM 1000 is considered ideal to serve in the energy, utility, oil & gas, mining, urban development, security and defense markets.
"The IDM 1000 package includes all of the software needed to process nadir and oblique imagery and perform advanced photogrammetric measurements," said Bosanko. "The new Icaros Measurement Tool (IMT) is included."
The IMT is a universal oblique measurement tool. It enables customers working within Esri's GIS environment to view and measure structures in oblique aerial imagery captured by any commercial oblique sensor system, including those from Pictometry, Vexcel/Microsoft, IGI, Leica, and Midas. IMT works equally well measuring images captured by oblique sensors mounted on unmanned aerial vehicles (UAVs). As GIS users continue the move to 3D, oblique imagery will be critical for constructing accurate image-based realistic 3D models. IMT enables users to manipulate and view oblique imagery while leveraging other geospatial data layers within their GIS environment. This capability allows users to navigate multi-image scenes in three dimensions while zooming and panning.
Icaros will display the IDM 1000, along with the IMT software, on booth A4.009, Hall 4.1, at the InterGEO Conference and Trade Fair in Berlin on Oct. 7th through 9th, 2014.
For more information, please visit the Icaros infosite at http://www.icaros.us