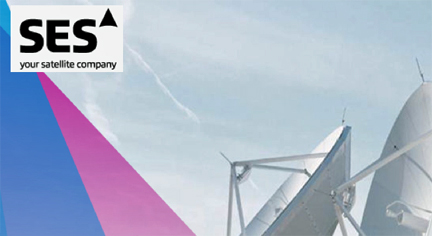 [SatNews] SES (NYSE Euronext Paris and Luxembourg Stock Exchange: SESG), operator of a global fleet of 55 communication satellites,has successfully signed and closed a renewal of the 1,200,000,000 euros Revolving Credit Facility.
Following strong support from new and existing banks, the Facility closed considerably oversubscribed having a significant element of scale back for the committed banks. The Facility comprises 20 banks and was arranged by
BANCO BILBAO VIZCAYA ARGENTARIA
S.A., BANK OF CHINA (LUXEMBOURG) S.A.
THE BANK OF TOKYO-MITSUBISHI UFJ, LTD.
BANQUE ET CAISSE D'EPARGNE DE L'ETAT, LUXEMBOURG
BARCLAYS BANK PLC
BNP PARIBAS
COMMERZBANK AKTIENGESELLSCHAFT
CREDIT AGRICOLE CORPORATE AND INVESTMENT BANK BELGIUM BRANCH
CREDIT SUISSE AG
LONDON BRANCH
DEUTSCHE BANK LUXEMBOURG S.A.
GOLDMAN SACHS BANK USA
ING LUXEMBOURG S.A.
INTESA SANPAOLO S.P.A.
J.P. MORGAN LIMITED
LANDESBANK BADEN-WÜRTTEMBERG
LANDESBANK HESSEN-THÜRINGEN GIROZENTRALE
MIZUHO BANK NEDERLAND N.V.
THE ROYAL BANK OF SCOTLAND PLC, ACTING THROUGH ITS PARIS BRANCH
SOCIETE GENERALE CORPORATE AND INVESMTENT BANKING (THE CORPORATE & INVESTMENT BANK DIVISION OF SOCIETE GENERAL)
SUMITOMO MITSUI BANKING CORPORATION
COMMERZBANK AKTIENGESELLSCHAFT, FILIALE LUXEMBURG as Agent.
The Facility is for general corporate purposes and has been structured as a five year multi-currency revolving credit facility with two one year extension options at the discretion of the lenders. The margin is linked to a ratings grid and at the current rating of BBB / Baa2 the margin is 45bps p.a. (replacing the former syndicated and committed credit line with a margin of 95bps p.a.) Padraig McCarthy, Chief Financial Officer of SES, said, "We are pleased to have secured this financing, which further strengthens our liquidity profile. The successful conclusion of this credit agreement reflects the market's view of SES as a strong investment grade credit, and underlines our ability to secure funding on attractive terms".