ViaSat Inc. (Nasdaq: VSAT) received an order from the U.S. Army for initial production of the nexgen Blue Force Tracking (BFT-2) transceivers for the Force XXI Battle Command Brigade and Below (FBCB2) satellite network upgrade.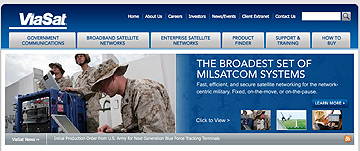 The units have demonstrated dramatic improvements in situational awareness accuracy and timeliness by reducing system latency, and providing lower cost-per-bit transmission and increased network capacity through an 8x improvement in satellite efficiency. This nexgen
BFT
transceiver also has been designed and tested to rigorous MIL-spec standards for ruggedness and reliability. The order is a follow-on to multiple successful demonstrations of the new high-performance prototype BFT-2 satellite communications network, based on the
ViaSat ArcLight
® network technology.
These initial production units will support
FBCB2–BFT-2
joint U.S. Army and U.S. Marine Corps field and operational testing, scheduled to begin in mid-2009. Armed forces use
Blue Force Tracking
to view regularly updated troop positions on screens in their vehicles and aircraft to differentiate between friendly and enemy forces. In Army testing, the new advanced system has shown its ability to provide increased throughput, speed, and capacity. Advanced performance includes transmitting information up to 45 times faster than the current BFT rate and refreshing information at 30 times the current rate. All the improved performance enables new BFT applications, such as transmitting e-mail with attachments, images, and other computer documents, while using a flexible waveform which can be tailored to individual satellite channel characteristics. The new system will interoperate with the current system to provide an integrated common operational picture.  This will be achieved without degrading the performance gains of the new system or disrupting operation of the current system as the network transitions to BFT-2. The ViaSat ArcLight ® product line, which provides broadband IP services to mobile platforms, has recently surpassed 100,000 flight hours on business jets. By leveraging ongoing developments in this and other company business areas, ViaSat plans to offer continued enhancements to the software-upgradable BFT-2 platform. Additionally, ViaSat's use of open standards rather than proprietary interfaces can enable the U.S. Army to gain flexibility to address evolving requirements.