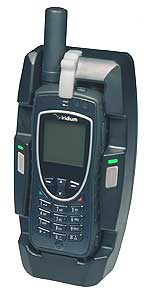 [SatNews] SatStation, a division of Atlantic Radiotelephone, Inc., is now making available...
...the SatStation Extreme Dock for the Iridium 9575 satellite telephone. This dock allows Iridium 9575 satellite phone users to place and receive calls indoors, below decks, in their vehicle or on board their aircraft. The Extreme Dock charges the phone and allows the user to toggle between hands-free and privacy mode. The 10 Watt speaker amplifies the phone ringer so calls can be heard in the noisy environments that many satellite phone users operate in.
Staying connected everywhere and in every situation has never been more crucial. The Iridium network provides access to voice and data anywhere on the globe, but requires a line of sight connection that isn't always available. SatStation docks take the power of Iridium the rest of the way home. The SatStation Extreme Dock provides Iridium 9575 Extreme satellite phone users access to the Iridium network indoors, below decks, in their vehicle or on board their aircraft.
The Extreme Dock is engineered specifically for the Iridium 9575, integrating with the phone's Emergency SOS feature to maximize safety. The dock both charges the 9575 and connects to an external antenna using the connector on the bottom of the phone, eliminating the need for additional cables and adapters. Equipped with an automatic stereo muting feature and car ignition connection, this dock is a ready-to-go vehicular solution.