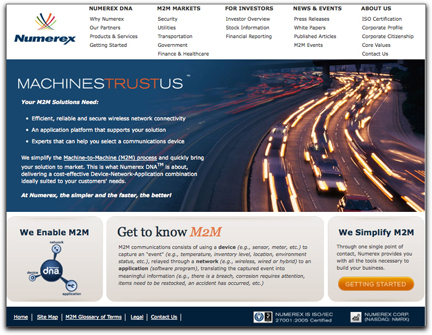 Numerex Corp. (Nasdaq: NMRX) is now part of the QinetiQ North America team that has been awarded a multi-year contract from the Federal Emergency Management Agency (FEMA) for full program management of Asset Tracking Services facilitating in-transit visibility within FEMA's Total Asset Visibility (TAV) Program.
The managed services will include provisioning of all asset tracking devices and supplemental equipment, providing GPS messaging services to locate tagged-assets or shipments, ensuring secure data sharing of data-feeds and messaging, delivering technical support for on-going operations and maintenance including continued integration with the
Department of Homeland Security
DHS\FEMA
technical architecture, maintaining detailed account balances, and surge capabilities for disaster operations. In addition to
Numerex
and
QinetiQ North America
, the team includes prominent companies in supply chain and logistics management, homeland security, and emergency management.