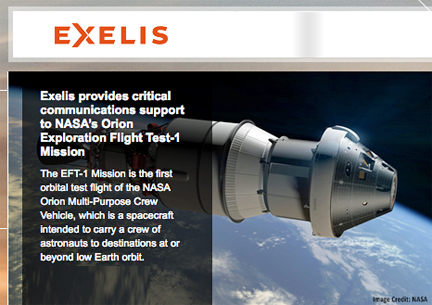 [SatNews] Exelis (NYSE: XLS) has successfully provided communications support to NASA's Orion Exploration Flight Test-1 (EFT-1) Mission.
The EFT-1 Mission is the first orbital test flight of the NASA Orion Multi-Purpose Crew Vehicle, which is a spacecraft intended to carry a crew of astronauts to destinations at or beyond low Earth orbit. The successful EFT-1 Mission marked a critical step in NASA's return to human space exploration.

Exelis, in its role as NASA's Space Communications Network Services (SCNS) prime contractor, managed the ground and space assets, which enabled communication with the Orion capsule during its mission. Communications support during the EFT-1 Mission was exceptional, and 100 percent of the mission data was transmitted, received, and routed.

Prior to launch, Exelis conducted compatibility testing and risk-mitigation testing to ensure the NASA Space Network would seamlessly support the EFT-1 mission. Unique tests were formulated and conducted to prepare for the EFT-1 Mission and characterize expected in-flight communications performance. In support of the EFT-1 Mission, Exelis modified the NASA Space Network to operate with the new, high-performance Orion communications signal format. The Orion signal format is based upon novel Low Density Parity Check (LDPC) codes designed and developed by NASA's Jet Propulsion Laboratory. LDPC codes are significantly more power-efficient than conventional space communication codes and this translates to improved spacecraft size, weight and power characteristics. The EFT-1 Mission marked the first operational use of the NASA LDPC code and demonstrated the reliability and robustness of the signal format.
"The body of work associated with EFT-1 was impressive, and in some cases unique," said Mark Severance, NASA human spaceflight network director. "Obstacles were encountered and quickly overcome by this talented team. Thus, the end of EFT-1 is contiguous with the transition to a new era in Human Space Flight. The Network Team that supported EFT-1 has assisted, in no small part, in making that transition a reality. My sincere thanks to all involved. Congratulations!"
Exelis was awarded the SCNS program, which supports NASA space and near-Earth networks, by the NASA Goddard Space Flight Center in 2011. These networks provide most of the communications and tracking services for a wide range of Earth-orbiting spacecraft, including the International Space Station, the Hubble Space Telescope and the Earth Observing System satellites.