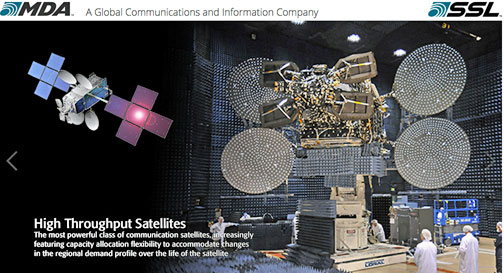 MacDonald, Dettwiler and Associates Ltd. (MDA) has revealed several important appointments as the firm continues their previously announced US Access Plan strategy—MDA remains on track to receive all of the necessary, required security clearances during Q4 of 2016, as previously communicated; however, no guarantee could be made by the firm in this regard.
Previous actions included the establishment of SSL MDA Holdings, Inc., a Delaware corporation, which will serve as the operating company for all MDA businesses, including both the US and Canada. Howard L. Lance, MDA president and CEO, has been appointed Chairman, President and Chief Executive officer of SSL MDA Holdings, Inc.. The headquarters will be located in San Francisco, California. Eric Zahler and Lori Garver, members of the MDA board of directors, have been appointed to also serve on the SSL MDA Holdings, Inc. Board of Directors. In addition, two new outside directors have been appointed.

General C. Robert Kehler (USAF ret.) has been appointed to the SSL MDA Holdings, Inc. Board of Directors. General Kehler had a distinguished military career with deep focus on U.S. military space strategy and policy. He served as Commander, U.S. Strategic Command; Commander, Air Force Space Command; Deputy Commander, U.S. Strategic Command; Director, National Security Space Integration; and Commander, 21st Space Wing. He joined the U.S. Air Force in 1975 as a Distinguished Graduate of the Pennsylvania State University R.O.T.C. program, has master's degrees from the University of Oklahoma in Public Administration and the Naval War College in National Security and Strategic Studies, and completed executive development programs at Carnegie-Mellon University, Syracuse University and Harvard University. General Kehler retired from active duty in 2013. He continues to apply his expertise as a consultant, corporate director and lecturer.

Joanne O. Isham has also been appointed to the SSL MDA Holdings, Inc. board of directors. Ms. Isham had a distinguished career as a Senior Executive within the US Intelligence Community until her retirement in 2006. She held senior policy and national security space positions, serving as deputy director, National Geospatial Intelligence Agency; deputy director, Science and Technology, Central Intelligence Agency; director, Congressional Affairs, Central Intelligence Agency; and director, Legislative Affairs, National Reconnaissance Office. Subsequently, she held executive positions with BAE Systems, Inc., High Performance Technologies, Inc. and L-1 Identity Solutions, Inc. She currently serves as a corporate director and consultant. Ms. Isham received numerous awards during her career, including the National Intelligence Distinguished Service Medal, the Department of Defense Distinguished Civilian Service Award, the National Intelligence Medal of Achievement, the CIA and NGA Distinguished Intelligence Medals and the DIA Director's Award.

General Kehler and Ms. Isham will be appointed to the MDA board of directors at the firm's next scheduled meeting in October.

Mr. Lance commented that the company is most fortunate to have Bob Kehler and Joanne Isham joining the board of directors. Their skills, experience and advice will be invaluable as MDA implements that US Access Plan strategy to more effectively serve the US Government space markets and customers.

In addition, MDA announced the following executive appointments at SSL MDA Holdings, Inc.

William D. McCombe has been appointed Senior Vice President, Chief Financial Officer, and treasurer at SSL MDA Holdings, Inc. Mr. McCombe joined MDA at the corporate office in 2014 as senior vice president, strategy and finance. In December 2014, Mr. McCombe was named senior vice president, finance and legal at SSL. In his new role, Mr. McCombe will be responsible for all finance and accounting functions across all the operations of the corporation, including staff at our various business locations in the U.S. and Canada. Mr. McCombe is a graduate of the University of Melbourne with a Bachelor of Commerce degree in Economics and Accounting and a Bachelor of Law degree, with Honors. He earned a Master of Business Administration degree at Columbia University. Previously, he was managing director, Mergers and Acquisitions at Bank of America Merrill Lynch from 2002-2013, and managing director, Corporate Finance and Mergers and Acquisitions at Morgan Stanley from 1984-2002.

Anil Wirasekara will continue to serve as executive vice president and chief financial officer of MacDonald, Dettwiler and Associates Ltd., the public company, based at the company's new corporate office in Vancouver, B.C.

Michelle D. Kley has been appointed Senior Vice President, Chief Legal and Compliance Officer and secretary at SSL MDA Holdings, Inc. Ms. Kley joined SSL in 2012 as associate general counsel and was promoted to vice president of legal at SSL in 2015. In her new role, Ms. Kley will be responsible for all legal, contracts, export control and compliance functions across the corporation, including staff at our various business locations in the US and Canada.

Bruce W. Stephenson has been appointed Senior Vice President, Chief Strategy and Corporate Development Officer at SSL MDA Holdings, Inc. He has been a partner at Bain & Company, a global consulting firm, since 2000. Mr. Stephenson collaborated with senior executives in the global aerospace and defense sector and other industries to develop and implement growth strategies, assess and integrate acquisitions, and implement performance improvement initiatives. Mr. Stephenson was an active duty U.S. Air Force officer from 1988 to 1998, serving in military space leadership roles at the National Reconnaissance Office, 45th Space Wing, and 2nd Space Operations Squadron. Following his active duty career, he continued to serve as a Colonel in the US Air Force Reserve until his retirement in 2012, focusing on space systems acquisitions, architectures and policy.

Andrea R. Bortner has been appointed Senior Vice President and Chief Human Resources officer at SSL MDA Holdings, Inc. Ms. Bortner will be responsible for all human resources activities across the corporation including human resources management systems and processes, talent recruitment and development, compensation and benefits, diversity and communications across the US, Canada and other company locations around the world. She was also the CHRO at Catalina since 2012. She held senior human resources positions at Harris Corporation from 2005 to 2012, including as the human resources executive for that firm's government communications systems business and as head of global talent solutions.

Donald R. Schaefer has been appointed President at MDA Information Systems LLC, MDA's Proxy company based in Gaithersburg, MD. MDA IS LLC is a leading provider of geospatial information services to the US Government and commercial customers. Mr. Schaefer is an experienced US Government programs executive with knowledge and access across the Department of Defense, Intelligence and Civilian agencies. Since 2011, he has been vice president at Noblis, a provider of research and engineering to clients in Federal and State government. Previously, from 2009-2011, he served as a partner at Blue Canopy LLC, providing systems engineering solutions across various Intelligence agencies as well as the Department of Homeland Security and other civilian agencies.

www.mdacorporation.com