[SatNews] Order your tickets to the SSPI Gala Gala Benefit Dinner by March 4th — and you could win a magnum of Satellite Wine.

The Gala Benefit Dinner occurs on March 17 at Satellite 2015—however, you have only a few days to purchase tables and tickets that could win you this magnum of Cabernet Sauvignon from SatNews publisher and expert winemaker, Silvano Payne.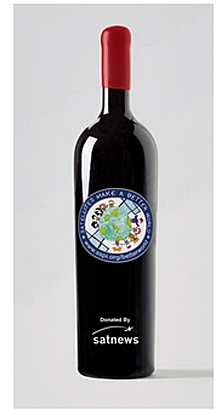 The SSPI thanks SatNews and Siesta Estate Wines for producing this special magnum bearing the Mission Patch for the "Better Satellite World" campaign. It was created by SSPI to raise awareness of the immense contributions of satellite to the economy, human welfare, peace and security. The campaign, bringing together multiple industry associations, aims to influence policymakers, future customers and the next generation of talent our industry needs. If you buy or have bought a ticket or table on or before March 4, you will be automatically entered into the raffle to win this one-of-a-kind treasure.
The winner will be selected on March 5, 2015 and must be able to attend the Gala to take pictures with Silvano Payne and Robert Bell, Executive Director of SSPI. Get your ticket orders in today to be included in the raffle!
Are you a member of SSPI? Being an active SSPI member has many benefits, including discounts on Gala Benefit Dinner tickets, networking opportunities, participation in local chapters, and more. Click here to check if your membership is active or
click here to read more about SSPI membership.