Globalstar, Inc. (NYSE American: GSAT) has introduced Sat-Fi2™, a lightweight, portable satellite hotspot providing reliable communications through any WiFi enabled smart device.
Sat-Fi2 provides seamless connectivity powered by Globalstar's modernized satellite network and represents the first product using Globalstar's next-generation ground infrastructure. Now available in the U.S. and Canada, Sat-Fi2 is the company's newest product aimed to increase business efficiencies and consumer connectivity through continuous communications, independent of the limitations provided by terrestrial cellular networks.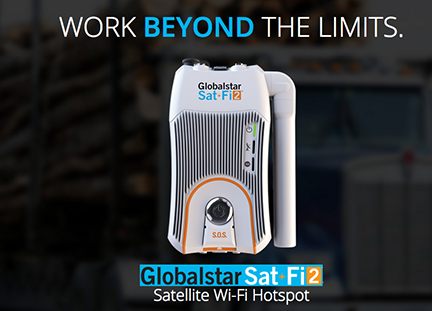 With the convenience of a new and easy-to-use Sat-Fi2 App, the device connects up to eight WiFi-enabled IoS or Android devices to send and receive email and SMS text messages, transmit voice calls, access the web, post to social media and ensure access to emergency responders through the integrated S.O.S. button. Email functionality beyond cellular is seamless and the Sat-Fi2 App works on multiple platforms including Gmail, iCloud, Exchange, Outlook, Hotmail and Yahoo! When browsing the web, users will experience faster page load times through Sat-Browse, a built-in internet compression and search engine technology allowing efficient and affordable access to web-based information.
Sat-Fi2 is designed for a wide range of consumer, enterprise and government markets including oil and gas, marine, alternative energy, government, emergency management, forestry, construction, commercial hunting and fishing, transportation and logistics — and for anyone who needs to stay connected when working or traveling off the grid.
Jay Monroe, Chairman and CEO of Globalstar, said that Sat-Fi2 is the industry's most affordable and functional portable satellite WiFi hotspot, allowing businesses, emergency service organizations, remote workers and more to have continuous communications connectivity. The company recognizes that constant and seamless connectivity is critical for both business efficiency and safety, and Globalstar is pleased to introduce this best-in-class tool.