Harmonic Inc. (NASDAQ: HLIT) will debut their DiviCom Electra® 8000, the world's first encoding and transcoding platform to support MPEG-4 AVC (H.264) and MPEG-2 codecs in standard definition (SD) and high definition (HD) formats, up to full frame-rate 1080p 50/60, at both The Cable Show in Washington, D.C. (Booth # ES-56) and at NAB 2009 (Booth # SU7209).
Providing superior video quality in a dense and power-efficient form factor —f our channels per rack unit (RU) and using 40 percent less power than the industry average for HD AVC encoding — the
Electra 8000
is the ideal choice for virtually any service provider. Cable MSOs can deliver up to four HD MPEG-2 services in one QAM, satellite operators can increase channel count per transponder, telco IPTV service providers can improve reach with constant bit-rate HD video at 5 Mbps or less, and ATSC stations can implement a cost-effective "station-in-a-box" with integrated HD/SD statistical multiplexing and PSIP re-multiplexing. The Electra 8000's native capability to decode and encode both MPEG-2 and AVC enables operators to accommodate existing and future architectures using a single hardware platform. For instance, the Electra 8000 can be used to receive AVC content and re-encode in MPEG-2, supporting the growing trend toward primary distribution of content in AVC and HD formats. Service providers can also use the Electra 8000 to deploy SD MPEG-2 services today and then seamlessly transition to HD AVC.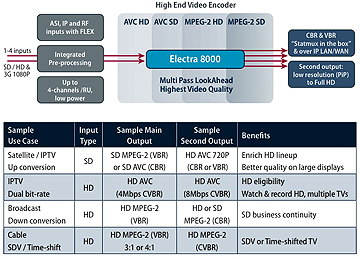 Key features of the new Electra 8000 encoder include:
A compact design supporting up to 4 video inputs in a 1-RU chassis, ideal for operators mindful of their carbon footprint, energy costs and rack space
Support for either MPEG-2 or AVC encoding/transcoding, and a wide variety of SD and HD formats, including 1080p24 and full frame-rate 1080p50/60
An enhanced compression engine with a unique multi-pass architecture incorporating the latest ASIC and DSP/FPGA technologies
An innovative high quality second channel output, capable of delivering a variety of resolutions, from picture-in-picture all the way up to full HD resolution for switched digital video (SDV) or time-shifted TV applications
A built-in broadcast quality up/down converter for differentiated services such as an HD broadcast of the premium SD lineup
Integrated statistical multiplexing "in the box" with Harmonic's DiviTrackMX™, or support for DiviTrackIP™ in LAN or distributed WAN environments
IP or ASI outputs, multiple audio format options, native support for Digital Program Insertion (DPI), and FLEX™ integrated decoding with IP, 8VSB or ASI inputs