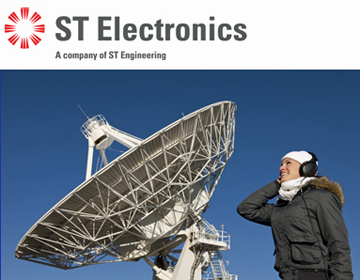 [SatNews] Singapore Technologies Electronics Limited (ST Electronics) has opened their ST Electronics Satellite Systems Center, a new state-of-the-art facility custom-built for the design and manufacturing of satellite systems.
In attendance at the event was Minister in the Prime Minister's Office and Second Minister for Home Affairs and Trade and Industry S, Iswaran.
Constructed in about a year, the six-story ST Electronics Satellite Systems Center, located at 6 Ang Mo Kio Electronics Park Road, has a total floor area in excess of 11,000 sq. meters. The Center accommodates well equipped laboratories for development work on remote sensing satellites in the areas of satellite attitude control and determination, high-throughput satellite communications, advanced computing, intelligent power control and management system as well as ground station infrastructure.The Center also includes a 12-meter high high-bay clean room for the concurrent Assembly, Integration and Testing (AIT) of two satellites. ST Electronics has used the facility to successfully construct and test the Qualification Model for TeLEOS-1, which is the first commercial Remote Earth Observation Satellite wholly designed in Singapore. ST Electronics is currently constructing the Flight Model for TeLEOS-1 which will be launched into space in 2015.
"This ST Electronics Satellite Systems Center affirms our long term commitment to build a vibrant and globally competitive satellite eco-system in Singapore," said ST Electronics President Lee Fook Sun. "Working hand-in-hand with Economic Development Board (EDB), we will help the local industry to level up technologically and increase their value-add."
ST Electronics is home to more than three hundred satellite engineering professionals in Singapore, out of which about one hundred of them are working on Space-related satellite activities and to construct the TeLEOS-1 satellite. The remaining two hundred engineers are involved in the development of advanced satcom networks and systems as well as producing the world's smallest, lightest and most power-efficient high throughput satcom terminals and solid state power amplifiers, which are sold to more than 110 countries worldwide.
Singapore's first commercial Earth observation satellite, TeLEOS-1, will be launched into a 550-kilometer Near Equatorial Orbit (NEqO) for commercial imagery service in 2015. The 400-kilogram satellite, equipped with an electro-optical camera payload capable of performing imaging at ground resolution of down to one meter and with a high revisit rate, is suited for applications such as disaster and environment monitoring, maritime safety, coastal surveillance, urban planning and homeland security.
Space development and satellite manufacturing worldwide is projected to grow robustly and exceed $25 billion in total revenue over the next decade. Industry analysts have estimated that about 280 remote sensing satellites will be built over this period of time for various government and commercial applications, such as maritime safety, homeland security, energy and resources management, environmental and disaster relief applications.
The ST Electronics Satellite Systems Center represents the aspirations of ST Electronics to go into space and exploit the economic opportunities that space presents. ST Electronics Satellite Systems Center will be the focal point in building the high value-add satellite industry in Singapore. In addition, ST Electronics hopes to inspire the Singapore industry and academia to explore further opportunities in space and engender interests in young students to take up engineering as their career of choice. ST Electronics is working closely with the EDB in these pursuits.
For more information, please visit the ST Electronics infosite at http://www.stee.stengg.com/index.html