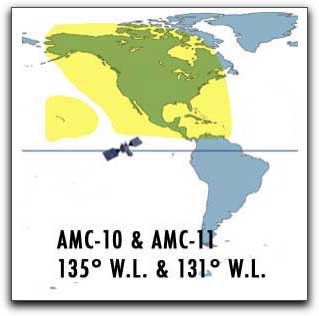 SES AMERICOM-NEW SKIES, division of SES S.A., has announced the launch of six MTV Networks HD channels in MPEG-4 on the HD-PRIME distribution platform as well as the delivery of 136 HD channels via SES platforms, worldwide.
The
HD-PRIME
launch of
Nickelodeon HD
,
MTV HD
,
VH1 HD
,
COMEDY CENTRAL HD
,
Spike TV HD
and
CMT HD
requires two transponders on the
AMC-10
and
AMC-11
satellites. This brings
SES AMERICOM-NEW SKIES
total count of HD channels to 67 in number. Sister firm
SES ASTRA
broadcasts 69 HD channels over five satellites. SES AMERICOM-NEW SKIES operates the go-to HDTV platform across North America. HD-PRIME is home to dozens of HD leaders, including
Discovery HD Theater
,
Showtime HD
,
Food Network HD
, and the heart of the
MTV Networks
' HD lineup. SES AMERICOM-NEW SKIES is the newly combined SES division bringing together SES AMERICOM, the leading supplier of satellite services in the U.S., with the strategic global satellite services of SES NEW SKIES.