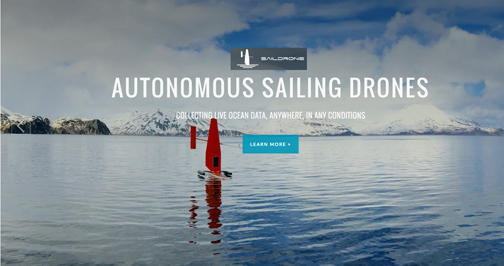 He became famous in 2009 when he broke the wind-powered world speed record of 126.2 mph. From what he learned from the wing technology he put to use during a 10 year project and created sailing drones. He is Richard Jenkins who in 2012 founded and became CEO of Saildrone.
Saildrone Inc. provides ocean data that's collected by a fleet of unmanned, autonomous sailing drones. The firm has now closed $14 million in Series A funding. The round was led by Social Capital with investments from the Capricorn Investment Group, Lux Capital and the Schmidt Family Foundation, a private foundation created by Eric and Wendy Schmidt. The Series A round of funding will be used to expand Saildrone's fleet of sailing drones, enhance Saildrone's data processing capacity, and scale commercial operations.
Following his original proof of concept journey from San Francisco to Hawaii in 2013, the drones were transformed into sophisticated ocean and atmospheric measurement devices in close partnership with the National Oceanic and Atmospheric Administration (NOAA). Saildrones have now sailed over 60,000 nautical miles, with missions in the Atlantic, Pacific, Gulf of Mexico and Bering Sea.
At the end of 2015, Sebastien de Halleux joined Saildrone as COO to help scale operations. Sebastien brings entrepreneurial experience from the video game industry, where large data sets, rapid growth and innovative technologies are key. Sebastien previously co-founded Playfish, a category-defining video games company that attracted over 55 million monthly players and which sold to Electronic Arts in 2009. Prior to Playfish, he helped launch Macrospace a mobile game pioneer, which merged with Sorrent, Inc. in 2006 to form Glu Mobile, which made its initial public offering in 2007.
According to Ted Miadenberg, the co-founder and partner at Social Capital, the most valuable technology companies of our generation are going to be the ones that collect massive and important data sets. Oceans cover more than 70 percent of the Earth's surface, little is known about them due to the historically prohibitive cost of research. At Social Capital, the vast commercial applications of Saildrone-collected data is of enormous interest.
"Saildrone is democratizing access to the oceans, which remain largely unexplored, and is poised to revolutionize the industry, much like SpaceX and Planet Labs have revolutionized the space industry," added Dipender Saluja, Managing Director of the Capricorn Investment Group.
www.saildrone.com