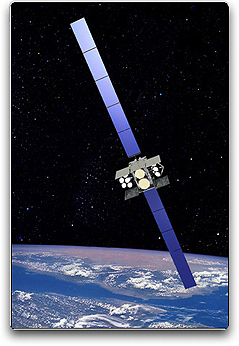 On June 15th, Boeing successfully transferred control of the second Wideband Global SATCOM (WGS) satellite to the U.S. Air Force, which will monitor and control the new satellite from Schriever Air Force Base, Colorado.
WGS-2
was declared ready for
Department of Defense
operational testing after rigorous ground testing, an April 3rd launch, and a thorough on-orbit checkout. WGS satellites are the Defense Department's highest-capacity communications satellite, offering a major increase in bandwidth for airmen, soldiers, sailors and Marines. "The Air Force could not be more pleased with the performance of the WGS government-industry team and, of course, the performance of this important satellite," said Brig. Gen.
Samuel Greaves
, commander of the Military Satellite Communications (MILSATCOM) Systems Wing at the Air Force's Space and Missile Systems Center in Los Angeles. "We have high expectations in the MILSATCOM Systems Wing, and this team has once again proven that it is fully capable of meeting that challenge."
The WGS system will augment and eventually replace the
Defense Satellite Communications System
(
DSCS
) constellation.
WGS-1
, which
Boeing
delivered to the Air Force in January 2008, and WGS-2 together are capable of handling more than 25 times the capacity of the entire DSCS constellation. The Defense Department has ordered six WGS satellites from Boeing and is making plans to buy more satellites to address growing SATCOM bandwidth needs worldwide.