ST Electronics (Satcom & Sensor Systems) Pte Ltd. has launched their AgilSpace GeoPortal, a one-stop e-commerce hub for satellite imagery which will enable customers to place orders for new imagery to be captured or from its archive.
"With the advent of big data analytics, we see great potential in the increasing pervasive use of high responsiveness and multi-source satellite imagery to meet diverse business, environmental and security needs in the market. AgilSpace GeoPortal will allow customers easy access to a wide array of satellite imagery in a timely, secure and effective manner to enable new applications to value-add to their operations," said Mr Tang Kum Chuen, President, ST Electronics (Satcom & Sensor Systems).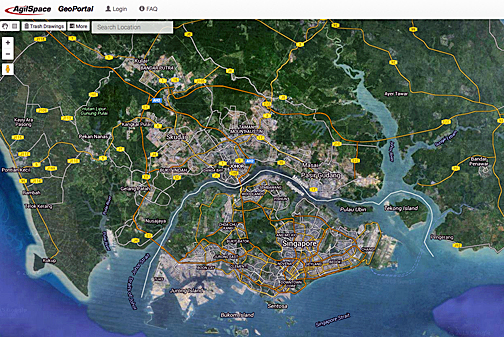 The AgilSpace GeoPortal from ST Electronics has a wide selection of imagery captured by TeLEOS-1. It will soon also contain imagery of its international imagery partners to deliver multi-source, multi-modal mix of optical and radar satellite imagery. TeLEOS-1 was launched by ST Electronics on Dec 16, 2015. The on orbit test to calibrate the camera is in good progress.
Meanwhile, a rich archive of satellite imagery has been accumulated and will be made available on the AgilSpace GeoPortal. The AgilSpace GeoPortal makes it easy for customers to place new imagery tasking orders, check the order status, and receive the imagery via FTP download. In addition, a unique feature of AgilSpace GeoPortal is its simulation engine for multi-satellite orbit predictions so that the customers can check for satellite passes over area of interest, thereby allowing customers to book advanced imagery tasking orders.
With the Archive service, AgilSpace GeoPortal also provides potential customers with a quick look at the available imagery in the catalogue. Online payment options available include telegraphic transfer, prepaid credit and credit card. With AgilSpace GeoPortal, ST Electronics has made access to satellite imagery easier for global customers who require satellite imagery for applications in maritime security and safety, humanitarian aid and disaster relief, environment monitoring, homeland security and infrastructure planning and development.
Visit the AgilSpace GeoPortal at agilspace.com:8080/
AgilSpace GeoPortal is being exhibited at the ST Electronics stand 1N3-01 at CommunicAsia2016, Marina Bay Sands, Expo and Convention Centre, Level 1, from May 31 to June 3.