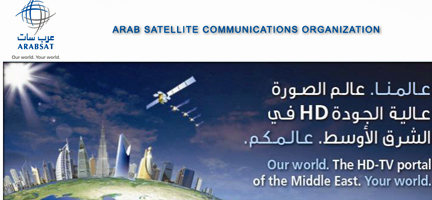 [SatNews] Arabsat and Morgan for Information and Communications Technology (MICT) have signed a contract whereby Arabsat will provide Morgan with satellite capacities on the Arabsat 5-C satelligte at the orbital position of 20 degrees East.
This capacity contract will offer full coverage to the African continent, as well as the Arabsat's usual coverage of the Middle East and large portions of Asia and Europe. Eng. Khalid bin Ahmed Balkheyour, President & CEO of Arabsat, stressed Arabsat's full support and commitment to provide the best services for MICT.
Eng. Kazem Zain, CEO of Morgan for Information and Communications Technology, said, "The importance of this agreement is not only in its value and financial returns, but also in the glimmer of hope it gives despite the difficulties and challenges facing the region. The implementation of this contract starts with building and operating two ground stations in Africa this year, to be expanded in the coming years to accommodate the growing needs of the African and the region."
Further information regarding Arabsat is available at their infosite http://www.arabsat.com/