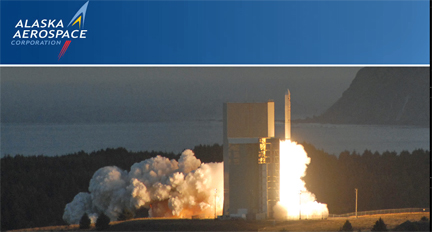 [Satnews] Alaska Aerospace Corporation (AAC), recognizing strong demand and aerospace industry growth in northeast Alabama, announces the opening of their new office in Huntsville, Alabama—this is the first permanent presence outside of Alaska for the company.
AAC conducted nine launches for MDA in support of the test and evaluation phase of the Ground-based Midcourse Defense (GMD) system currently deployed at Ft Greely, Alaska and Vandenberg AFB, California. SMDC also used the Alaskan facilities of AAC for previous test operations. AAC has worked with a number of commercial companies in the Huntsville area on both commercial and government aerospace programs. Mr. Barry King will be the AAC Huntsville representative. Mr. King has extensive experience with local Huntsville aerospace companies and government agencies.
The new AAC Huntsville office is located at 7027 Old Madison Pike NW, Suite 108, Huntsville, Alabama - 35806. AAC can be reached in Huntsville at (256)-799-2368.
Alaska Aerospace Corporation is a state-owned corporation established to develop a high-technology aerospace industry in Alaska. AAC owns and operates the Pacific Spaceport Complex - Alaska (PSCA) and is the worldwide distributor for RapidEye multispectral imagery of Alaska. Their corporate offices are in Anchorage, Alaska.
Craig E. Campbell, AAC President and CEO, said, "Alaska Aerospace has supported a number of missions for the Missile Defense Agency (MDA) and Space and Missile Defense Command (SMDC) and by opening an office in Huntsville, we will be well positioned to be more responsive to our customers' future needs. AAC is diversifying our business model, becoming a more competitive commercial service company, so we see this new office as a keystone in our aerospace services expansion program."