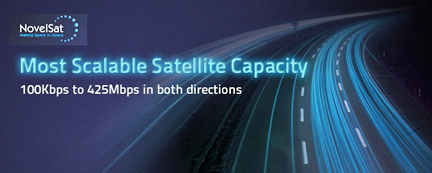 [SatNews] NovelSat has appointed a new CMO, Oscar Glottmann and Corporate VP Sales, Benny Glazer, both satellite communications industry professionals.
In addition to new and planned technology achievements in the short and long term, the new executive hires are part of a strategy to maintain market leadership and build the company's future.
Oscar Glottman is a 30-year veteran of the wired, wireless, IP networking and satellite communications industries. He has both built companies from the ground up and has held executive management, marketing, sales and business development positions for companies including Fibronics, Adacom, Lanoptics, Meetu.com, Breezecom/Alvarion, Shiron and Elbit. Mr. Glottmann received his engineering degree in Computer Science from the Technion and completed the Executive Program at Stanford University.
Benny Glazer was recruited to apply his knowledge and experience in the satellite industry to the international sales effort. Benny brings more than 25 years of global international sales experience within the telecommunications, satellite and Broadcast industries, handling many partners and operators worldwide. Prior joining NovelSat, Benny served as VP Sales in international companies including Alvarion, ECI, Gilat Satellite and LiveU. Benny holds a B.Sc. Electrical Engineering from Ben Gurion University and studied for his MBA in Business at Tel Aviv University.
"We operate in a very competitive market where innovation often takes too long to reach the people who need it," said Itzik Wulkan, NovelSat CEO. "NovelSat R&D is rapidly developing ground breaking solutions to help large and small companies achieve their business goals. We recruited Benny and Oscar to bring those solutions to customers and partners more efficiently and effectively and I wish them both the best of success."
The NovelSat infosite may be accessed at http://www.novelsat.com/