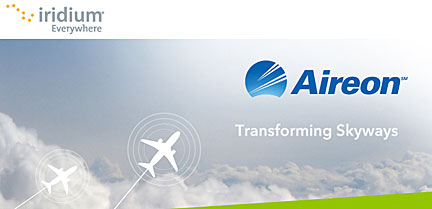 [SatNews] Aireon LLC, the developer of the world's first space-based global air traffic surveillance system, has announced the firm has signed a memorandum of understanding (MOU) with NAV Portugal, the Portuguese air navigation service provider (ANSP), to become an early customer of the transformational Aireon(SM)service.
Under the MOU, NAV Portugal will work with Aireon, NAV CANADA, the Irish Aviation Authority (IAA), Naviair (Denmark), and NATS in the U.K. to define how Aireon's space-based surveillance service can be used for improving air traffic management over the North Atlantic, the busiest oceanic airspace in the world, laying the foundation for a future long-term data services agreement between NAV Portugal and Aireon. Aireon will enable NAV Portugal to improve the safety and efficiency of services in its airspace, including the strategically important oceanic airspace of the Santa Maria Flight Information Region.
As part of both the North Atlantic Systems Planning Group (NAT SPG) and the North Atlantic Implementation Management Group (NAT IMG), NAV Portugal is well versed in the opportunities to enhance communications, surveillance and air traffic management capabilities in the region.
"We look forward to working with NAV Portugal as a future customer of Aireon, enhancing air traffic surveillance in the busy airspace that they serve," said Don Thoma, president and CEO, Aireon. "As an innovative user of air traffic management technologies, NAV Portugal is well positioned to take advantage of the unique capabilities that can only be achieved through space-based ADS-B. We will be working closely with them and all of our future customers, throughout the development and deployment period of Aireon, to ensure the best possible service across oceanic and remote airspace."
In conjunction with NAV CANADA and NATS, NAV Portugal will lend their industry expertise to the deployment of space-based ADS-B services in the North Atlantic. NAV Portugal is also an important player in the management of air traffic between Europe and South America, further extending the airspace that will benefit from the space-based ADS-B solution.
"NAV Portugal is pleased to join other leading ANSPs as potential future customers of Aireon's revolutionary global surveillance service," said Luis Coimbra, President of the Board, NAV Portugal. "We see a tremendous amount of value in the enhanced operations of air traffic management through space-based ADS-B, and it will be very effective in managing our operations in both the North Atlantic as well as routes between Europe and South America. This opportunity reinforces our leadership in flight safety and efficiency, and we look forward to using space-based ADS-B to improve air navigation services for our customers."
Aireon is a joint venture between Iridium Communications Inc. (Nasdaq:IRDM), NAV CANADA, ENAV (Italy), IAA, and Naviair, established to launch the Aireon system by hosting ADS-B receiver payloads on Iridium NEXT, Iridium's second-generation satellite constellation, scheduled for first launch in 2015. Aireon will uniquely leverage Iridium NEXT to meet the critical need of extending ADS-B coverage and benefits to every flight path across the planet.
For further information, access http://www.aireon.com/
NAV Portugal's infosite is located at http://www.nav.pt/