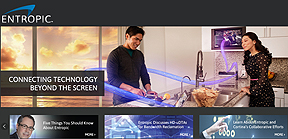 [SatNews] Entropic (Nasdaq:ENTR) has announced its Channel Stacking Switch and Multimedia over Coax Alliance (MoCA®)-based silicon and software have been...
...selected by DIRECTV PanAmericana to enhance the way content is delivered into and connected throughout the home. According to research firm Informa Telecoms & Media, the expected payTV subscriber numbers in Latin America will reach 73.2 million by the end of 2016, up 68 percent from 43.5 million in 2010. This opportunity has lead DIRECTV PanAmericana to seek a silicon partner that could help realize the tremendous growth opportunity and gain a stronger foothold in the region by offering a more comprehensive suite of whole-home entertainment viewing solutions.
DIRECTV PanAmericana turned to Entropic for its Channel Stacking Switch (CSS™)) single-cable wire infrastructure for use in low noise block (LNB) converters and multi-switches. By adopting Entropic's CSS technology, DIRECTV PanAmericana can deliver more ubiquitous content throughout the home by supporting multiple tuners over a single cable run. The CSS technology enables multi-tuner set-top boxes (STB), such as digital video recording (DVR) devices, to deliver HD services to multiple rooms in the home, allowing easy plug-and-play STB installations, simplifying upgrades and new installations at a lower cost and within the existing infrastructure wiring constraints -- all with improved aesthetics for the homeowner.

DIRECTV PanAmericana will also deploy Entropic's MoCA silicon and software in its new HD-DVR receiver and in its network adapters known as DECAs (DIRECTV Ethernet-to-Coax Adapters). By deploying Entropic's MoCA technology, DIRECTV PanAmericana subscribers may gain access to new home networking services. The MoCA technology enables the reliable delivery of multiple streams of HD content—from broadcast and broadband traffic—throughout the home.
When used together, Entropic's CSS and MoCA solutions offer satellite operators the unique opportunity to increase user bands to enable a high-speed home network, simultaneously. By efficiently channel stacking the Direct Broadcast Satellite (DBS) broadcast video using the CSS technology, DIRECTV PanAmericana was able to create bandwidth within the typical DBS broadcast band for MoCA home networking use. This combination allows the coexistence of Digital Terrestrial Television (DTT) signals on the same cable as home networking and DBS broadcast video, resulting in a seamless user experience.