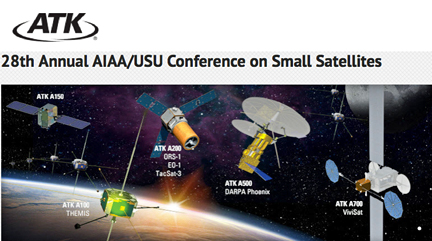 [SatNews] ATK (NYSE: ATK) will exhibit its expanded satellite products and capabilities including small satellite platforms at the 28th Annual AIAA/USU Conference on Small Satellites in Logan, Utah.
The conference will be held at the Taggart Student Center at Utah State University from August 2-7, 2014. This year's conference theme focuses on "The Commerce of Small Satellites" as a backdrop for discussions on new business opportunities and rising demand for small satellites in emerging markets.
ATK will headline a conference session on how established providers and new space entrepreneurs can meet a growing worldwide need for small satellite systems. Robert Meurer, VP Business Development, Commercial and International Programs, ATK Space Systems, and Seah Peng Hwee, VP, Space Systems, ST Electronics Satcom & Sensor Systems in Singapore, will provide insight on how international partnerships can reinvigorate the market especially in the pan-Asian and Middle Eastern regions where demand for small space systems is on the rise.
Titled "Global Commerce in Small Satellites –Trends and New Business Models" the session takes place on Monday, August 3rd, at 3:15 p.m. in the Student Center. The presentation will focus on "New Space" ventures and expansive growth in commercial Earth Observation (EO) systems within emerging space nations. It will also highlight the recently announced partnership between ATK and ST Electronics to jointly develop, manufacture and supply the A150S/SS150 advanced microsatellites around the world.
ATK's demonstrated capability to build small satellites quickly and effectively positions the company as a leader in new space markets. One of ATK's key business strategies is to invest in technology and new product development to meet emerging market needs. In addition to a well established presence in the U.S. with more than 60 facilities, the Company has strategically committed resources to the global marketplace with representatives in more than 50 countries. Visitors to the ATK exhibit (Booth #81) can learn more about these innovative technologies through videos, animation and product model displays. ATK subject matter experts will also be available to answer any questions and provide additional information.
Specific products and information on display at the ATK stand include:
The ATK A Series Satellite Bus Platforms Product Line: A100, A200, A500 and A700 with enhanced performance platforms of A150, A250 and A550
Video demonstration featuring products from ATK's Space Systems Division
ViviSat Satellite Servicing video
Updates on current programs. Of particular note, ViviSat's recent award of the Hosted Payload Solution (HoPS) contract by the U.S. Air Force Space and Missile Systems Center presents a new way for interested small satellite missions to rideshare into space.
The ATK infosite may be accessed via http://www.atk.com/