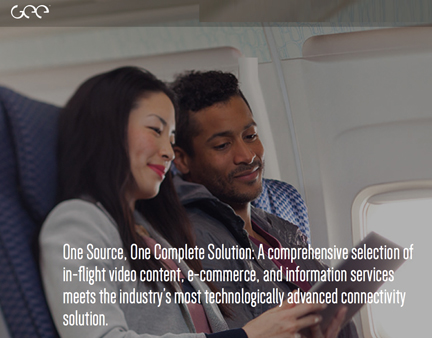 [SatNews] Global Eagle Entertainment Inc. (Nasdaq:ENT) has launched a new corporate brand image and logo—the design reflects the company's evolution in becoming an integrated supplier of inflight entertainment (IFE) and connectivity, providing digital media solutions to the travel industry.
The new brand incorporates a fresh logo design and modern color palette, highlighting Global Eagle Entertainment's (GEE) leadership, adaptability and forward-thinking in the industry. The design also underlines GEE's commitment to providing innovative and market-leading services to its customers and partners with a recognizable identity that represents the integrated array of products and services in its portfolio. The new visual identity will be officially unveiled at the Airline Passenger Experience Expo (APEX Expo) in Anaheim during the week of September 15th, where the company will be exhibiting and sponsoring key events.
Dave Davis, CEO of GEE, said, "The brand was designed by our creative group and is the culmination of unifying our different teams across the globe to meet the needs of our customers through an integrated approach to our business."
The company's new infosite may be reached at http://www.globaleagleent.com/