[SatNews] On Thursday, March 27, 2014, the first MeerKAT antenna and the Karoo Array Processor Building were "launched" at the South African SKA core site near Carnarvon in the Northern Cape.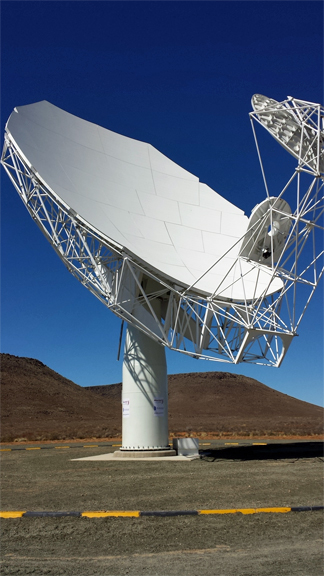 The Minister of Science and Technology, Mr Derek Hanekom hosted ministers from the Square Kilometer Array (SKA) African partner countries at the inauguration event.
Stratosat Datacom (Pty) Ltd, a technology company specializing in the supply of innovative satellite, wireless communication and astronomy products, teamed up with General Dynamics SATCOM Technologies, global leader in the design and building of advanced radio telescope antennas, to install 64 MeerKAT radio telescope antennas. Stratosat Datacom is the prime contractor for this project and was awarded by SKA South Africa in 2012, the contract to design, build and install these antennas. Stratosat Datacom (Pty) Ltd is part of the Schauenburg International Group headquartered in Germany, with more than 30 affiliated companies worldwide.
The MeerKAT radio telescope antennas will eventually form part of the larger SKA Phase 1 array, located in South Africa's Karoo region. The array is a technologically advanced radio telescope designed to locate radio-frequency signals coming from the furthest reaches of the universe, possibly from the first stars and galaxies formed after the Big Bang. The SKA array will be the largest and most sensitive radio telescope in the southern hemisphere.
The Stratosat and General Dynamics SATCOM teams are working closely with multiple South African fabricators, engineers and technicians to build and install the MeerKAT antenna array over the next three years.
During the execution of the contract, engineers and technicians will be living on site to complete the project. For this purpose, Stratosat Datacom established the MeerKAT camp. This will be the teams "home away from home" during their time on site.
One of the key objectives for Stratosat Datacom is to support the development of local fabricators into high quality suppliers. Furthermore, Stratosat Datacom will look to uplift the community in and around Carnarvon. Alan Geldenhuys, Executive Director of Stratosat Datacom said, "Our obligation towards the empowerment of the local community, Carnarvon and surroundings, is going to be a rewarding part of this project and we are excited about the future developments of small businesses that will fulfil the demands of our technical team operating on the ground during the execution of the contract."
Stratosat Datacom's portfolio includes products from all major SATCOM equipment manufacturers, which enables them to provide "Best of Class" products and services through their various distribution centres located around Sub-Saharan Africa. Differentiating Stratosat Datacom from the rest of the market is its unique ability to offer their customer base complete "Transmit and Receive Chain" products together with installation and value added service offerings. Stratosat Datacom customers vary from GSM, to ISP and broadcasting companies.
Stratosat Datacom is situated in Johannesburg, South Africa, near Oliver Tambo International Airport and also houses an engineering and repair department.
More information about Stratosat Datacom can be found at http://www.stratosat.co.za/