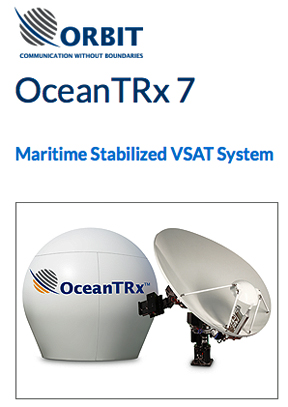 [SatNews] ORBIT Communication Systems has received an order to supply multiple OceanTRx™ 7-500 Ka-Band SATCOM systems to one of the emerging Ka-band global satellite service providers.
ORBIT's SATCOM systems will be installed on board cruise ships. This order follows previous orders for ORBIT equipment already installed on several large cruise ships. ORBIT's OceanTRx 7-500 stabilized antenna systems (2.2 meter) provide continuous broadband data communications at very high rates. ORBIT's OceanTRx 4-500 (1.15 meter) and 7-500 systems support Ka-band communications, which is considered the fastest growing segment in the satellite industry. Over the past two years, ORBIT has invested substantial resources in the development of these Ka-band systems, which have demonstrated their technological superiority in multiple deployments for commercial and defense users.
Ofer Greenberger, CEO, ORBIT, said, "The satellite service provider's commercial service launched recently is an important milestone for us. At their request, we will expand our cooperation to other markets beyond the maritime segment."