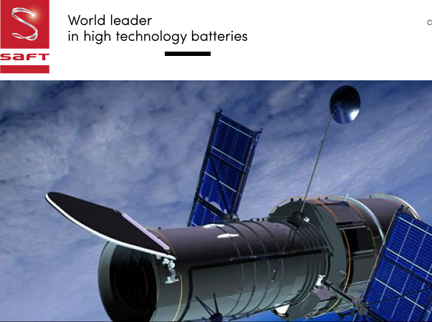 [SatNews] Saft has been awarded five new contracts from Boeing to build Li-ion batteries for four of Boeing's current GEO communication satellite programs.
Including these orders, Boeing has awarded a total of eleven contracts under its long-term agreement with Saft signed in 2009 to produce Li-ion GEO satellite batteries. These contracts, along with associated support and management, represent more than $20M of satellite batteries. The seven satellites worth of battery packs will be delivered from mid-2014 to 2015.

Saft has established itself as a leader in providing advanced technology Li-ion batteries to the GEO satellite market by continually improving its products to meet the stringent demands of the space environment. Saft's strong partnership with Boeing has been a major contributor to Saft's significant growth in this market, which now includes 75 GEO satellites in orbit using the company's Li-ion technology.

The Boeing satellites in production will offer high-performance communications coverage in geosynchronous orbit (GEO) for their intended customers. Saft provides the heritage lithium-ion technology for these various satellites offering lower mass and small volume to allow Boeing more efficient power systems in the competitive GEO market.
Saft's infosite is located at http://www.saftbatteries.com/market-solutions/space