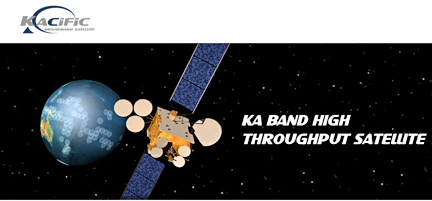 [SatNews] Kacific Broadband Satellites has announced plans to launch a Ka-band High Throughput Satellite (HTS) to provide enhanced broadband to 40 million people in the Pacific including the Pacific islands, New Zealand, eastern Indonesia and Papua New Guinea.
According to the World Bank, the Pacific is significantly underserved in terms of broadband access. Estimated total potential demand for bandwidth is 44Gbps. Today, just 20 percent, or less than 10Gbps, is supplied. The Pacific has the highest Internet pricing and the highest Skype call prices on earth. Substandard, over-contended, 1Mbps broadband services can cost more than US$700 per month in some territories. Kacific will sell wholesale bandwidth and anticipates that telcos and ISPs will offer it to end users at speeds of up to 10 Mbps and at price points as low as 5 percent of current costs. The service will be provided through small terminals costing just a few hundred dollars.
"This will be the world's most geographically dispersed broadband satellite footprint," said Kacific CEO Christian Patouraux. "Our aim is to create a high quality broadband network offering direct internet access to around 99 percent of the government agencies, institutions, businesses and people within the total footprint area."
Kacific expects to commission its launch vehicle and payload in 2014 and to provide broadband services to the region by late 2016.
Geographic and demographic factors present particular difficulties for the nine million people in the Pacific islands. There is a significant challenge in getting coverage—even simple connectivity—to remote locations such as the Line Islands in Kiribati, the northern atolls of the Cook Islands, the archipelago islands and scattered populations of Micronesia and the Marshall Islands. And places such as Tuvalu and Tokelau also face issues in providing quality coverage to their small, distributed populations. These factors mean that Pacific island nations have two to seven times lower Internet penetration than continental nations with comparable GDP per-capita and adult literacy rates.
To help address these inequalities, Kacific will provide broadband service via a payload co-hosted on a geostationary satellite. It will operate up to 48 beams, each providing coverage of 700km diameter and up to 400Mbps (duplex) throughput. Beams can be adapted to provide service to remote atolls with low populations without increasing the price of bandwidth in those locations. Target customers include mobile networks, education institutions, hospitals and healthcare providers, hotels, airlines and tourist services, government departments, agencies and services, emergency services, aid agencies, banks and financial institutions, mining, oil and agriculture businesses, as well as small-to-medium enterprises and consumers.
More information is available at http://kacific.com/