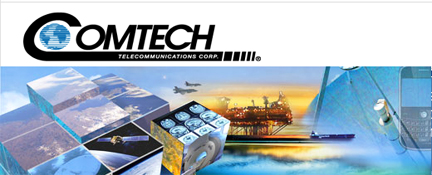 [Satnews] Comtech Telecommunications Corp. and TeleCommunication Systems, Inc. (NASDAQ: TSYS or "TCS" announce the signing of a definitive merger agreement under which Comtech will purchase TCS in a cash transaction for $5.00 per TCS share, or approximately a $430.8 million enterprise value. The $5.00 price per share represents a premium of 13.9 percent as compared to the last closing trading price of TCS common stock, a premium of 28.6 percent as compared to the volume—weighted average trading price over the last 90 trading days and a premium of 35.1 percent as compared to the last closing trading price one day after TCS' July 6, 2015, announcement that its Board had formed a special committee to explore strategic alternatives to enhance stockholder value.
During the 12 months ended September 30, 2015, TCS reported revenues of $364.1 million and Adjusted EBITDA of $40.4 milion, and during the 12 months ended July 31, 2015, Comtech reported revenue of $307.3 million and Adjusted EBITDA of $51.8 million. Based on the trailing 12 months reported for the two companies, pro forma combined revenue would have been $671.4 million, with Adjusted EBITDA of $92.2 million (excluding synergies). The combined companies employ about 2,000 people.
The acquisition is expected to be cash accretive in the first year of the acquisition and to result in approximately $12.0 million of synergies in the second year after closing (with approximately $8.0 million achieved in the first year after closing). Synergies are expected to be achieved by reduction of duplicate public company costs, reduced spending on maintaining multiple information technology systems and obtaining increased operating efficiencies throughout the combined company.
In connection with the acquisition of TCS, Comtech expects to incur transaction related expenses including certain charges in control payments, professional fees for financial and legal advisors and debt extinguishment costs. Comtech preliminarily estimates that these expenses will approximate $27.5 million, some of which are expected to be immediately expensed upon closing, some expensed during the first year following the closing and some capitalized in accordance with purchase accounting rules. Pursuant to accounting rules, the acquisition is expected to result in a material increase in annual amortization expense related to intangibles and possible other fair value adjustments. Comtech will provide combined revenue, Adjusted EBITDA and diluted earnings per share guidance in a future announcement.
Under the terms of the merger agreement, unanimously approved by both companies' Board of Directors, Comtech will make a first step cash tender offer at $5.00 per TCS share. Once the first step cash tender is completed, it will be followed by a merger at the same price. All TCS debt of approximately $143.6 million is anticipated to be repaid upon the closing of the transaction. The acquisition has a transaction equity value of approximately $339.7 million and an enterprise value of approximately $430.8 million. The purchase price of $430.8 million represents an implied transaction multiple of approximately 8.9x based on the last trailing twelve months of reported TCS Adjusted EBITDA, plus approximately $8.0 million of first year identified synergies.
As of September 30, 2015, TCS had approximately $51.6 million of cash, cash equivalents and marketable securities and, as of July 31, 2015, Comtech had $151.0 million of cash and cash equivalents. Comtech will fund the acquisition by redeploying approximately $149.9 million of the $202.6 mil lion of pro forma combined cash, cash equivalents and marketable securities, and has received a commitment for a credit facility funded in the amount of up to $400.0 million from a major financial institution for the remainder of the purchase price. The exact terms of the credit facility will be finalized at close. On a pro forma basis and including estimated transaction fees of $27.5 million, Comtech would have approximately $52.7 million of cash at closing.
A separate investor presentation and question and answer documents relating to the acquisition are available at www.comtechtel.com. Citigroup Global Markets Inc. is serving as financial advisor to Comtech. Proskauer Rose LLP is acting as Comtech's legal counsel. Lazard is acting as financial advisor to TCS. Bryan Cave LLP is acting as TCS' legal counsel.
The key strategic benefits for Comtech include...
Creates scale and more diversified earnings, reducing volatility associated with challenging international (including emerging markets) business conditions
Provides entry into commercial markets, including the public safety market which has a growing need for next generation emergency 911 systems
Enhances position with existing customers including establishing Comtech as a primecontractor on several U.S. government contracts, including becoming the prime contractor for sale of its over-the-horizon microwave systems (troposcatter) products
Generates meaningful cost synergies
Executive Comments
Dr. Stanton Sloane, President and Chief Executive Officer of Comtech, said, "We believe this combination is beneficial to the stakeholders of both companies. TCS is a unique business and a leading provider of mission-critical C4ISR solutions and next generation emergency 911 services to leading cellular and VoIP providers. The acquisition is a significant step in our strategy of entering complementary markets and expanding our domestic and international commercial offerings. We welcome TCS' senior management and talented workforce to the Comtech team and are excited about the future."
Maurice B. Tosé, President and Chief Executive Officer of TCS, said, "The TCS Board of Directors and management believe this strategic combination with Comtech is compelling and provides significant benefits for our stockholders, customers and employees. Our customers will benefit from greater resources and more diverse product offerings, and our employees will benefit from being part of a larger more diversified company."