[SatNews] The EADS Corporate Technical Office (CTO) and Russian researchers from the Lavrentiev Institute are collaborating on the evaluation...
...of a new, innovative and efficient propulsion technology. The Skolkovo Foundation Investment Committee approved a grant for a joint research programme concerning Continuous Detonation Wave Engines. The total amount of this grant is 1.7 million euros—EADS will contribute the same amount for the project's budget. The objective of the research is to develop new engines for future applications.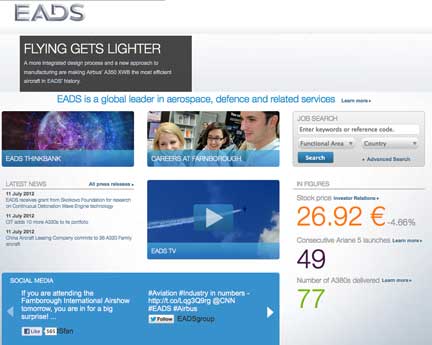 Russian scientists have developed key technologies which complement the know-how developed by EADS. A detonation engine is a type of propulsion system that uses detonation waves to combust the fuel and oxidizer mixture. Today, scientists are exploring pulsed and continuous detonation engines. This technology is still very much in the beginning. No detonation engine has been put into production so far, but several test bed engines with pulsed detonation have been built.
Theoretically, a detonation engine can operate from subsonic up to a hypersonic flight speed of roughly Mach 5. Detonation engines are believed to have a thermodynamic efficiency higher than other designs like turbojets and turbofans because a detonation wave rapidly compresses the mixture and adds heat at constant volume. EADS Innovation Works, the corporate research network, will collaborate with the Russian Lavrentiev Institute of Hydrodynamics located in Novosibirsk. During past years, EADS has already performed preliminary theoretical and experimental works, mainly in cooperation with the Lavrentiev Institute. These studies aimed at obtaining a first demonstration of the feasibility of a Continuous Detonation Wave Engine for airbreathing and rocket application. Compared to a Pulsed Detonation Engine, this design allows an easier operation in reduced-pressure environment and an increase in engine mass flow rate and thrust-to weight ratio.
In this research program, EADS is taking benefit from its membership in the Russian Innovation Centre Skolkovo. This body has implemented a program of financial support for its residents high-tech companies located at the technology business hub in the Moscow region. If the tasks defined for the first tranche are successfully executed, the companies can apply for a second grant. The EADS research centre at Skolkovo is a branch of the Russian Technology Office (RTO) which had been established in 2003 as a part of EADS Innovation Works to facilitate cooperation with the Russian research and development community. Since its opening, the RTO has already managed more than 100 cooperative research and technology programs between EADS and Russian institutions with a focus on advanced engineering tools. EADS's experience in research and technology collaboration with Russian partners has been extremely positive. Russia is providing competitive, high quality cutting-edge technology.