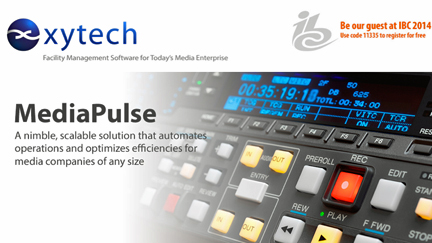 [SatNews] Xytech will introduce MediaPulse Cloud at IBC 2014, which will deliver the complete functionality of Xytech's flagship MediaPulse platform in a secure, managed solution operating 24/7/365.
With Xytech's scalable cloud offering, customers will no longer need to purchase, maintain and upgrade their own IT infrastructure. The innovations present in MediaPulse Cloud represent a significant advancement for the industry-leading facility management system and offer unparalleled flexibility, whenever and wherever users need it. Compatible with any IT environment, MediaPulse Cloud works seamlessly with Windows PCs and tablets, Macs, iPads and Android tablets. Xytech invested in a high performance, fault tolerant infrastructure to ensure MediaPulse Cloud's responsiveness. Users are set up with unique databases to ensure security, and MediaPulse Cloud is supported by industry best practices. In addition to MediaPulse Cloud, the latest version of Xytech's MediaPulse platform will also be on display at IBC. MediaPulse 2014 delivers asset management, order management, resource management and financial management in a configurable, platform-independent, browser-based application. The 2014 release includes hundreds of new features and performance improvements. The new features center on four core areas:
SKY 2014, the platform-independent and browser-based interface for MediaPulse, has been upgraded to include a complete graphical scheduling application, real time dashboards for user-defined KPIs and a form editor to modify all screens. Media Order and Transmission Order modules have also received significant enhancements, enabling users to create complex order profiles with a simple click.
Visit Xytech at IBC 2014, Stand 6.C22. Their infosite is located at http://www.xytechsystems.com/