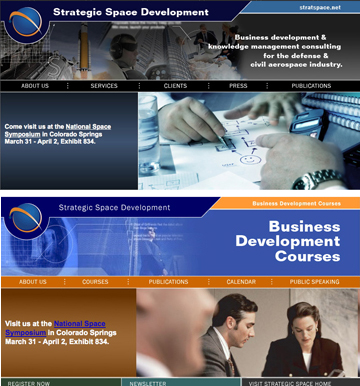 Strategic Space Development (SSD) is pleased to announce the unveiling of two new websites.
With the intent to augmentSSD's already strong brand image, the Company's marketing team gave both sites a fresh look to reflect the innovative and expanding business.
Stratspace.net
showcases SSD's main business — that of business development consulting and strategic planning in the aerospace and defense sectors. In addition to the usual business profile, this site will be host to numerous resources for those in business development.
Bdcourses.com
was created to facilitate the SSD's other rapidly growing business of courses and seminars. As an outgrowth of our successful consulting work, we have increased our course offerings and trainings. This site was created to lend more functionality in requesting quotes and registering for courses. It also allows those interested in our monthly newsletter to now subscribe online.
Browsers can download brochures and publications, link many resources and find detailed information regarding our consulting and trainings. These unveilings come at a perfect time for SSD as we are beginning a new year with more services and trainings to offer and exhibiting at major aerospace conferences.