[SatNews] Israel Law Center, the organization that built its reputation on hard-fought legal battles and victories against terror sponsors, has sent a letter to worldwide mobile satellite company...
...Inmarsat PLC, warning it against providing prohibited guidance services to Iranian oil tankers and Iranian military vessels. The warning letter stressed that Inmarsat's actions would expose the telecommunications giant to criminal prosecution and civil liability from Americans and others who suffer as a result of Iran's international sponsorship of terrorism.
The move followed a recent Obama administration decision to slap additional Treasury Department sanctions on Iranian vessels, which have been found to be facilitating Teheran's nuclear weapons program and global terrorist network. Despite this, the London-headquartered Inmarsat, with offices in Miami and Washington D.C., continues to provide mobile satellite services to Iranian ships.
Shurat HaDin's director, and civil rights activist, Nitsana Darshan-Leitner, said, "We will not tolerate Inmarsat's—or any corporation's—profiting from the blood of innocent people. Anything short of immediate and decisive action on our part would be akin to acceptance. It is a simple issue of justice: Inmarsat must uphold its legal obligations in compliance with U.S. Treasury regulations and immediately cease its support for Iran."
In 2008, a United States Supreme Court ruling made the determination that individuals or companies that materially support terrorist organizations are liable for the murder and injuries they cause, according to Boim v. Holy Land Foundation. Fueled by this variety of tenacious judicial support, Shurat HaDin—Israel Law Center submitted a letter alerting Inmarsat's leadership that its actions are illegal and serve as a civil liability to American citizens and to all those across the globe who experience the brunt of Iran's sponsorship of terror.
This action represents the latest example of the Law Center's harnessing of American and international law to knock down the financial and technological buttresses of terrorism.
In June 2011, Shurat HaDin brought legal action against Inmarsat for continuing to support ships seeking to breach Israel's naval blockade of Gaza. Shurat HaDin underlined that Inmarsat's services provided communications to the Mavi Marmara and other ships that participated in the Gaza flotilla of May 2010. The case was filed in a Federal Court in Miami.
The warning letter additionally noted that previous judgments allowed victims of terrorism to file suit against an oil and gas company, as well as against its officers, for engaging in business with a state sponsor of terrorism. Additionally, Darshan-Leitner stressed that by providing aid to Iran, Inmarsat subjects itself to forfeiture of its assets to judgment creditors who hold unenforced judgments against the Islamic regime. Shurat HaDin moreover stressed that it is prohibited for any party (including non-Americans) to transport, sell, transfer, or deal with any property (including oil) that Iran has any interest in.
Shurat HaDin intends on pursuing the company, its officers and directors for providing aid to Teheran, and will continue to expose such companies to forfeitures of assets and severe financial penalties.
Copy Of Shurat HaDin's Letter: http://tinyurl.com/bogxxb3
Factsheet About Inmarsat: http://tinyurl.com/bmnhju7
July 2012 US Treasury Department Iran Sanctions: http://tinyurl.com/bu2fa3q
Previous Letter Sent On Flotilla: http://tinyurl.com/d5fa9hs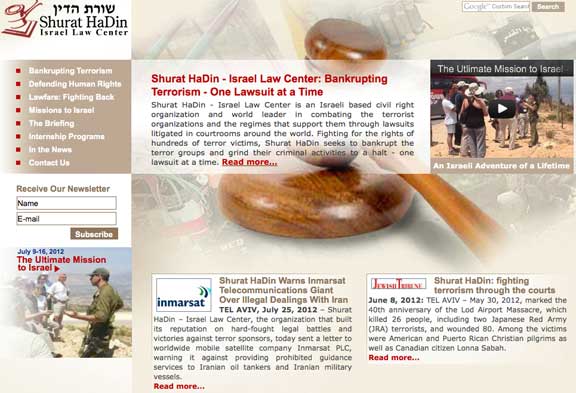 To read Inmarsat's response to the Shurat HaDin letter, please this direct news link.