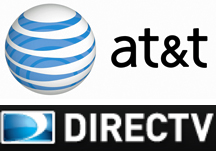 [SatNews] AT&T Inc. reportedly in advanced talks to purchase TV provider DirecTV for about $100 per share, or approximately $50 billion, a person familiar with the matter said on Monday.
The two companies are working toward a deal announcement as soon as possible within the next two weeks and are currently hammering out final terms such as whether to have a break-up fee in place, the person said, asking not to be named as the matter is not public. The deal price has yet to be finalized and terms could still change, the person added.
AT&T and DirecTV have declined to comment on the possible acquisition. Bloomberg News had earlier reported that AT&T was offering to pay around $100 per share for DirecTV, whose management team will continue to run the company as a unit of AT&T. The Wall Street Journal said a deal could occur sometime during the next two weeks.
DirecTV shares rose 6 percent to $92.50 in extended trading on Monday. DirecTV is working with advisers that include Goldman Sachs Group to evaluate a possible combination deal, following a recent takeover approach, which Reuters reported last week.