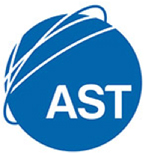 [SatNews] Applied Satellite Technology (AST) has launched its new brand logo at the company's Annual European Customer Event, held at Mercedes Benz World, UK, this month.
Much has been achieved by AST in recent years, expansion into the global market place, with the addition of group companies in USA, South Africa, New Zealand. Combined with sustained growth in the Australia, Singapore and UK offices, AST can proudly claim to be a world class company, using satellite technology to meet the needs of many governmental and corporate requirements, both on land and at sea. Additionally, AST is a Tier 1 provider with Inmarsat, Iridium, Thuraya and Globalstar, and is one of the largest wholesalers of satellite communication hardware, recently adding iDirect to its portfolio.
The Directors of AST supported the new brand, which replaces several regional variations of the original 20 year old logo, demonstrating that AST is a forward thinking company, planning its future as a global player in the industry.
Gregory Darling, Managing Director, said, "The rebranding coincides with the firm's global strategy of repositioning AST in the context of the competitive environment we operate in. It reflects our desire to focus on qualities that differentiate us from our competitors."
The new logo provides consistency across all areas of the group, and has been updated and simplified to convey the new vision of AST. In simple terms the graphic represents a globe and orbiting satellites, stating who we are and what we do.
The AST infosite may be reached here.