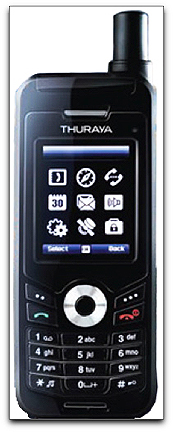 Global Satellite USA has launched Thuraya XT, the world's first IP54/IK03 certified satellite phone.
  Splash resistant, dust protected, and shockproof,
Thuraya XT
is the most rugged handset combining satellite phone functionality with the dependability of Thuraya's satellite network. The handset's
GmPRS
capability means you can easily send/receive emails, SMS and browse the web with your laptop or PC from anywhere, at download/upload speeds of 60/15kbps. Fax and data speeds are 9.6kbps. There is a glare-resistant display with a high contrast menu for easy readability in direct sunlight. The handset is lightweight and compact, just weighing only 4oz and measuring just 12.8 x 5.3 x 2.65cm (h x w x d).
Wherever you are within
Thuraya
's extensive coverage area, however remote the location, you're never more than a phone call away.  overage for Thuraya includes the ability to stay connected in more than 140 countries in Europe, North, Central Africa and large parts of Southern Africa, the Middle East, Central and South Asia, Atlantic Ocean and Australia. Thuraya XT is ideal for anyone who moves around in areas where local networks are unreliable or non-existent. Its extremely durable construction makes Thuraya XT ideally suited to tough environments, where other satellite phones may not handle the conditions so well.