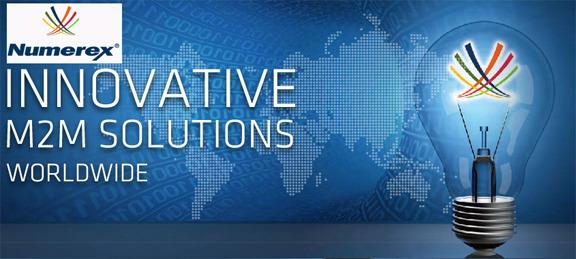 [SatNews] Numerex Corp (Nasdaq:NMRX) has unveiled a new, economical, unlimited satellite-based solution for tracking critical and high-value assets, dispersed to virtually any location worldwide, with a reporting frequency of as little as every five minutes.
The new offer combines the company's comprehensive SmartGuide™ application, with its SX1 sensor serial-port enabled tracking device, and a 32-satellite network to offer unprecedented global coverage. The solution also allows for configuration with other off the shelf, non-Numerex branded devices, if desired. Built specifically for near real-time tracking, SmartGuide is a feature-rich service that communicates easy-to-understand location and status data through high-volume messaging.

The Numerex satellite data network uses 32 LEO satellites providing reliable, low-latency messaging services supported by more than 120 countries and many global maritime associations. The SX1 device meets or exceeds the latest environmental standards as well as carrying the exacting HERO certification (Hazards of Electromagnetic Radiation to Ordnance). The Numerex' end-to-end solution including device, network and application - Numerex DNA(R), - allows companies to scale up quickly to deploy and immediately to begin tracking vital assets such as vehicles, commercial equipment, containers or virtually anything of high value used in the maritime, oil and gas, forestry and other industries.
"This new pre-packaged service offers customers everything they need to immediately track and monitor vital assets around the clock and around the world," said Scott Wiley, SVP of Marketing and Product Management, Numerex. "Providing GPS visibility, event monitoring, and remote asset data for high-value assets on a near-real time basis is critical to many of our customers operating in globally-dispersed areas. This service is designed to ensure they can identify, locate, monitor performance, and diagnose their critical assets—all for a low-cost fixed monthly subscription fee."