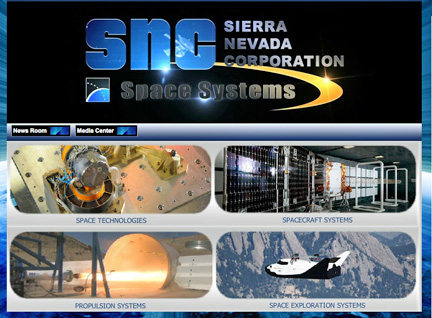 [SatNews] Sierra Nevada Corporation (SNC) has successfully started the latest phase of hybrid rocket motor qualification testing for
the
Dream Chaser
® flight vehicle.
SNC
completed two tests this week at its rocket test facility in San Diego, California.
A motor firing and ignition test was completed in preparation for upcoming motor tests under the current Commercial Crew Integrated Capability (CCiCap) award. SNC will conduct another series of hybrid motor firings to meet the next CCiCap contracted milestone, starting this summer. After required modifications were completed, the test firing was conducted in order to validate Dream Chaser's motor test stand. This was after required modifications were completed and to ensure that SNC can move forward with the future heavy weight motor test series with minimal test stand risk. The Dream Chaser version of the hybrid rocket motor was last tested in 2010 under the Commercial Crew Development Program (CCDev1) Space Act Agreement during which SNC completed three successful test firings of a single hybrid motor in one day.
In addition to manufacturing these motors for Dream Chaser, SNC also manufactures the hybrid motors for Virgin Galactic's SpaceShipTwo vehicle, which has undergone test firings on dozens of hybrid motors over the last two years. As announced in a SNC news release (April 29, 2013), SpaceShipTwo successfully completed its first powered flight test using SNC's hybrid motor to power the vehicle to an altitude of 55,000 feet and reaching Mach 1.2.
SNC's hybrid rocket systems offer a safe, high performing, and non-toxic alternative to solid and hydrazine liquid propulsion systems. As the rocket motor fuel is industrial rubber, there are no special handling or transportation requirements, which greatly reduces the lifecycle cost to customers.