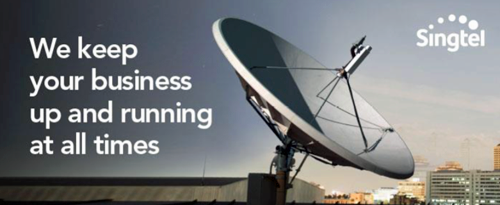 To have reliable internet connectivity is now non-negotiable within today's working world.
Internet connectivity is the primary pipeline of communication for all businesses, be they large or small. Any downtime in connectivity, such as due to a cable cut, poor connection or natural disaster, can cost a company millions in revenue and severely impact their income generation. Downtime can lead to considerable headaches for anyone who wants their business to run smoothly.
What can be done to protect against outages and internet connectivity issues? A solid solution at Singtel ensures businesses remain up and running via the company's VSAT Backup Service. This service provides coverage over Southeast Asia, the Pacific Islands as well as the Middle East. Singtel VSAT Backup Service offers these benefits:
Cost — No High CAPEX — An affordable monthly recurring cost and pay-per use scheme for bandwidth usage
Reliability — Service can be activated within two hours*
Support — 24x7 by a team of professional support personnel
From now until October 31, 2017, a highly attractive offer of Singtel VSAT Backup service awaits the first ten customers — contact the company to find out more...
* Terms and conditions apply