[SatNews] Space Tech Expo, which will run from May 19th through the 21st, 2015, in Long Beach, California, has just announced that the USAF's Space and Missile Systems Center (SMC) is confirmed to exhibit.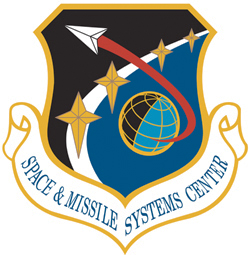 Four directorates of SMC will be participating to network and discuss capabilities, requirements and future technologies.
Advanced Systems and Development Directorate (SMC/AD)
The Advanced Systems and Development Directorate, resulting from the recent merger of the Space Development and Test Directorate with the Development Planning Directorate, defines mission Architectures; identifies technology needs; engineers advanced concepts; develops, tests, executes, operates and evaluates advanced space capability demonstration projects for integration into Air Force operational space systems; provides space test expertise and capabilities; launches operational and test payloads and missile defense targets; provides ground system support for demonstration projects; and rapidly transitions capabilities to the warfighter.
Global Positioning Systems Directorate (SMC/GP)
The Global Positioning Systems Directorate is a joint service effort directed by the USAF and managed at the Space and Missile Systems Center, Air Force Space Command, Los Angeles Air Force Base, CA. The directorate is the DoD acquisition office for developing and producing GPS satellites, ground systems and military user equipment. GPS is a space-based dual use radio navigation system nominally consisting of a minimum 24-satellite constellation that provides positioning, velocity and timing signals to military and civilian users worldwide. GPS satellites, in one of six medium earth orbits, circle the earth every 12 hours transmitting continuous ranging signals.
Remote Sensing Systems Directorate (SMC/RS)
The Remote Sensing Systems Directorate, resulting from the recent merger of the Infrared Space Systems Directorate (SMC/IS) with the Defense Weather Systems Directorate (SMC/WM), develops, acquires, fields and sustains affordable space-based infrared surveillance, tracking and targeting Capabilities for missile early warning/defense, battlespace awareness and technical intelligence; and space and terrestrial weather systems to meet Department of Defense requirements. Its programs include the Defense Support Program (DSP), Space-Based Infrared System (SBIRS), SBIRS Follow-on, Defense Meteorological Satellite Program (DMSP), Weather System Follow-on (WSF), numerous technical demonstrations, and large civil/international/commercial engagements and programs.
Small Business Office (SMC/SB)
The Space and Missile Systems Center (SMC), located at LAAFB in El Segundo, California, is a subordinate unit of the US Air Force Space Command. SMC designs and acquires all USAF and most DOD space systems; oversees launches, completes on-orbit checkouts; then turns systems over to user agencies. SMC supports the Program Executive Office for Space on the Global Positioning, Defense Satellite Communications and MILSTAR systems; Evolved Expendable Launch Vehicle, Defense Meteorological Satellite and Defense Support programs, and Space Based Infrared System. SMC manages research, design, development, space launch acquisition and sustainment, command and control, missile systems and satellite systems.
To learn more about this upcoming event, please visit http://www.spacetechexpo.com/